Lifestyle, Promi & Medien Magazine
Paste Magazine :: The Best New Music, Movies, TV, Games, and Books :: Music and Movie News, Reviews, Features, Videos, MP3s and More
Complex | Style, Music, Sneakers, Entertainment, Girls, Technology
All Star Pics, Pictures of the Stars, Celebrity Pics, Entertainment Photos
MAX :: Das Magazin für Popkultur und Style
Fitness, Sport, Workouts, Abnehmen, Rezepte & Spaß: Werden Sie aktiv! - FIT FOR FUN
GQ.de - Männer - Mode - Herrenmode 2011 - Girls - Gewinnspiele - Modetrends - Frisurentrends - - GQ
Fotos, Gerüchte, Klatsch & Tratsch von Stars & Promis - top.de
NEON.de
Homepage - Männermagazin Men's Health – Fitness, Fashion & Lifestyle für aktive Männer
Startseite: FHM Magazin
Willkommen bei freundin.de - Mode, Beauty und viele Tipps und Tricks, die das Leben leichter machen
AMICA: Das Frauenmagazin für Mode, Stil, Lifestyle, Beauty, Trends
Fashion Magazine - Beauty Tips, Fashion Trends, & Celebrity News - ELLE
Fashion, Trends, Beauty Tips & Celebrity Style Magazine, ELLE UK
Home | fashionmagazine.com
Fashion News, Latest Trends, Catwalk Photos & Designers (Vogue.com UK)
Home
Style.com: The Online Home of Fashion: News, Runway Shows, Trends, Fashion Models, Designers, Shopping, Beauty & More
Fashion Trends and Women's Fashion Shows - Harper's BAZAAR
Teen Vogue: Fashion Starts Here: teenvogue.com
BUNTE.de - Leidenschaft für Menschen
Aktuelle Nachrichten
Mode-Beratung, Schmink-Tipps, Rezepte, Kreuzworträtsel - myself
Erlebe die Welt der Stars auf Gala.de - Die Nr.1 für Starnews
Alles rund um Schönheit & Familie: Frisuren-Trends, Beauty-Produkte und Rezepte
Shape.de - Sport und Wellness, Fashion und Lifestyle
Alles über Beauty, Mode, Styling, Stars, Schule und Aufklärung - Mädchen.de
BRAVO
BRIGITTE.de - Mode, Beauty, Diät, Rezepte - Die führende Website für Frauen
Lifestyle-Magazin für Frauen, Trends, News, Tipps und Ihr Horoskop, täglich aktuell - fem.com
Frisuren, Mode, Trends, Stars - glamouröse Unterhaltung - GLAMOUR
Frauen Community und Lifestyle Portal ForHer.de
Archiv - Alles was Sie interessiert: Mode, Frisuren- und Beauty-Trends Plus Star-News
Fotos, Gerüchte, Klatsch & Tratsch von Stars & Promis - top.de
gofeminin.de : Trends, Beauty, Astro, Schlankheit, Tests, Quiz...
JOY - das Magazin für Mode, Frisuren, Trends und Shopping
Schönheit, aktuelle Trends, Promis sowie Lifestyle und Wellness - WUNDERWEIB.de
Fashion Jobs, Mode Nachrichten, Stellenmarkt, Jobs in der Modebranche, Stellenangebote, FashionUnited
Home | Glam DE
International Promi & Celebrity Magazines
Promi-Nachriten, Starnews, Biografien, Autogrammadressen von Stars
Promi-Nachriten, Starnews, Biografien, Autogrammadressen von Stars
Gossip News: deutsche Promis und internationale Stars
PromiPranger - Promis, Bilder, Klatsch und News am PromiPranger
Promi News | Star Nachrichten
★ Deutschlands erstes Promi-Blog mit Klatsch und Tratsch, Promi-News, Paparazzi-Fotos. ★ Gossipgirlz – nicht Gossipgirls
VIVIANO.de - Stars. Lifestyle. Kino. Musik. Videos.
Frisuren-Trends | Mode-Trends | Beauty-Videos - Frauenzimmer.de
Promiluder, Sternchen und VIP News. - Vip-Chicks.de
Fan Lexikon
News » Viply − News aus Hollywood
Posh24.de - Stars und Promi-Lifestyle
Stars, Sternchen und ihre Sünden | Promiflash.de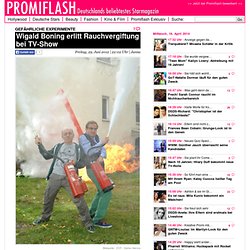 Bildquelle: ZDF / Stefan Menne Wigald Boning (45) riskiert in seinen Wissens-Shows einiges. Als er noch für die Sat.1-Sendung "clever! - Die Show, die Wissen schafft" vor der Kamera stand, schreckte er nicht davor zurück, auch waghalsige Experimente durchzuführen – und mindestens genauso spektakulär, wenn nicht sogar spektakulärer, wird es nun in seiner neuen Show zugehen. Heute Abend strahlt das ZDF zum ersten Mal "Nicht nachmachen" aus – und hier ist der Name tatsächlich Programm!
Wigald Boning erlitt Rauchvergiftung bei TV-Show | Promiflash.de
Promi-News und Promifotos – Promi-Magazin.de
Klatsch.de - Klatsch & Tratsch, News, Fotos, Interviews, Skandale
klatsch-tratsch.de
Gawker — Today's gossip is tomorrow's news
Vice Magazine Deutschland
Styleite | News & Opinion | Fashion: Runway, Retail, Beauty, Media, Ranking
Healthy Recipes and Relationship Advice to Live Well Every Day - Woman's Day
Interview Magazine
NOISEY Premieres Hear Kevin Devine Cover Elliott Smith's "King's Crossing" From the forthcoming Fadeaway Records comp.
All Women Stalk - The Women Blog
Home / iGossip
Drogerie & Cosmetic + Online Shops
Fashion Design & Trend Talks & Magazines
Schauspielerinnen / Schauspieler
Medientalk / Neue Medien / Magazine