Libya/Tripoli/Gaddafi
Libya: When the impossible became possible - The Cafe. Had anyone argued in early 2011 that Libyan "Brother Leader" Muammar Gaddafi would soon be forced out of power, they would have been labeled dreamers at best, insane at worst.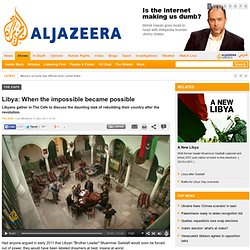 But that is exactly what happened. In mid-February, just weeks after Gaddafi berated Tunisians for ousting Zine El Abidine Ben Ali, the Libyan people rose up to say 'enough is enough.' For 42-years they had lived at the mercy of a totally unpredictable man and his brutal regime. Risking it all, activists in the eastern city of Benghazi had planned protests for February 17, 2011. Al Qaeda Plants Its Flag in Libya (PROPAGANDA?) It was here at the courthouse in Benghazi where the first spark of the Libyan revolution ignited.
It's the symbolic seat of the revolution; post-Gaddafi Libya's equivalent of Egypt's Tahrir Square. And it was here, in the tumultuous months of civil war, that the ragtag rebel forces established their provisional government and primitive, yet effective, media centre from which to tell foreign journalists about their "fight for freedom." Benghazi, Libya Al Qaeda and United Monarchy flags over Benghazi Courthouse 30 10 2011 Libya Libye Libia. US Congressman Dennis Kucinich on Al-Qaeda flag over Benghazi Courthouse In Libya. Al Qaeda Plants Its Flag In Libya. It was here at the courthouse in Benghazi where the first spark of the Libyan revolution ignited.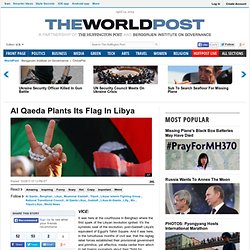 It's the symbolic seat of the revolution; post-Gaddafi Libya's equivalent of Egypt's Tahrir Square. And it was here, in the tumultuous months of civil war, that the ragtag rebel forces established their provisional government and primitive, yet effective, media center from which to tell foreign journalists about their "fight for freedom. " Read the whole story: VICE. Flag debunked in comments. Achim: Apart from Sherif Elhelwa no other journalist has spotted the. Abdurrahim al-Keib named new interim PM. 1 November 2011Last updated at 00:02 Mr al-Keib, who is from Tripoli, is seen as a consensus candidate Libya's interim authorities have named Tripoli academic Abdurrahim al-Keib as the new prime minister.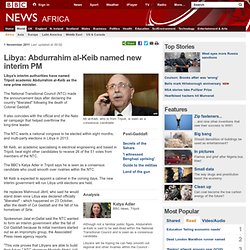 The National Transitional Council (NTC) made the announcement days after declaring the country "liberated" following the death of Colonel Gaddafi. Libya interim leader: No place for extremism. TRIPOLI, Libya (AP) — Libya won't turn into an extremist Islamic country, its interim leader assured the European Union's top diplomat on Saturday, adding that the formation of a new government of experts is to be completed in the coming week.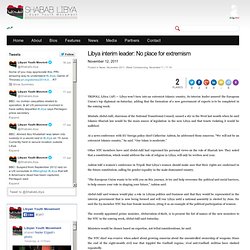 Mustafa Abdul-Jalil, chairman of the National Transitional Council, caused a stir in the West last month when he said Islamic Shariah law would be the main source of legislation in the new Libya and that tenets violating it would be nullified. At a news conference with EU foreign policy chief Catherine Ashton, he addressed those concerns. "We will not be an extremist Islamic country," he said. "Our Islam is moderate." US defence secretary warns Libya of struggle ahead | World news. Leon Panetta, the US defence secretary, has warned Libya's leaders they face a long struggle in emerging from decades of dictatorship and uniting the rival militias that still hold sway over many parts of the country.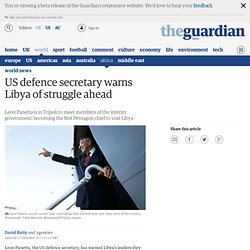 Panetta, the first Pentagon chief ever to set foot in Libya, said Washington would support the new government's efforts to take control of the oil-producing nation two months after the death of Muammar Gaddafi, but did not offer specific aid. "This will be a long and difficult transition, but I am confident that you will succeed," he said after meeting Libya's interim prime minister, Abdurrahim el-Keib. "I'm confident they [the interim leaders] are taking the right steps to reach out to all of these groups and bring them together so they will be part of one Libya and one defence system. " Panetta's comments came as the UN security council lifted sanctions on Libya's central bank and its foreign investment bank, to ease the country's cash crisis.
Libya's controversial rising star - Africa. In Libya, new figures are emerging in political and military circles during this transitional period; some even command wide appeal.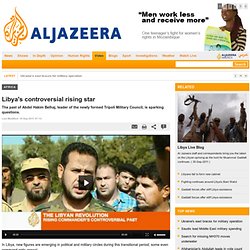 However, a handful of these people are sparking controversy because of their past. Al Jazeera's Hashem Ahelbarra reports from Tripoli, about one such rising star: Abdel Hakim Belhaj, leader of the newly formed Tripoli Military Council, who arguably is the most powerful military man in the Libyan capital. Belhaj is linked to one of the most symbolic events of the Libyan revolution: the capture of Muammar Gaddafi's Bab al-Aziziya compound last month, the ousted leader's former residence. Profile: Libyan rebel commander Abdel Hakim Belhaj. 4 July 2012Last updated at 10:32 ET Abdel Hakim Belhadj is a rising star in the Libyan leadership and standing for election, but his past ties to jihadi groups have sparked controversy - along with his claims of being tortured at the behest of US and British intelligence agencies under the programme known as rendition.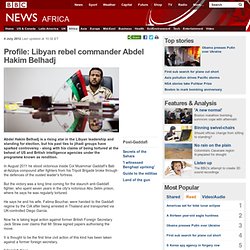 In August 2011 he stood victorious inside Col Muammar Gaddafi's Bab al-Aziziya compound after fighters from his Tripoli Brigade broke through the defences of the ousted leader's fortress. Abdelhakim Belhadj. Early life[edit] Born on 1 May 1966 in the Souq al Jum'aa area of Tripoli, Belhadj studied at Al Fateh University, where he earned a civil engineering degree.[6] During the years after his studying, he is said to have travelled extensively, spending time in Sudan, Turkey, Pakistan, Syria, Iran, as well as London and Denmark.[7] Libya, Afghanistan/Soviet war, LIFG[edit] Wanting to rid Libya of Colonel Gaddafi, Belhadj joined other young Islamists who formed a group, but were pursued from the country before they could achieve anything.[8] Leaving the country via Saudi Arabia he arrived in Afghanistan,[8] in 1988,[9] and became an Islamist fighter in the Soviet-Afghan war.[4] In 1992, after the Mujahideen took Kabul, he travelled across the Middle East and Eastern Europe, before returning to Libya in 1992.[8] There he and others formed the Libyan Islamic Fighting Group (LIFG), which tried to overthrow Colonel Gaddafi from 1994 onwards.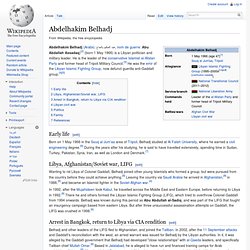 Older coverage
Global Relief Libya. Fundraising for Shweyga Mullah. Homepage. Feb 17 Libya News. LIVE Libya Feed | Libya Alhurra. LibyanYouthMovement (ShababLibya) Libyan Youth in the Revolution: video reports from Libya by Rachel Beth Anderson. UPDATE POSTED: Check out the update tab to see new video, RACHEL IS BACK IN LIBYA!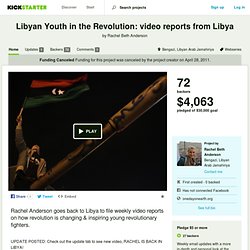 Shortcut to kickstarter campaign: www.LibyaTrueStory.com Rachel Anderson, an American journalist who was embedded with several youth groups in Libya in Feb/Mar 2011, returns to document and file weekly reports on the real life experiences of how the revolution is affecting the young fighters and activists. From influential rap music, to new freedoms for young women, revolution manifests itself in unexpected ways. By supporting Rachel as an independent journalist, you will be helping to provide for security, accommodations, daily living, satellite equipment, and a small communications team in the US assisting in logistics for 8 weeks. Any donations passed the goal will ensure a longer stay and continued coverage. Libya. Libya. Libya crisis. Chaotic end to Col Muammar Gaddafi's life Libya's Amazigh hoping for a brighter future after end of Gaddafi The Libyan economy struggles to get back on its feet National unity fraught with difficulty after overthrow of Gaddafi Libyan women have new battle to fight Gaddafi died an angry man, say his ex-aides How many civilians died in Nato air strikes?
Memorable moments from the six-month uprising As stability returns the next battle is youth unemployment Was Gaddafi the last of the buffoon dictators? Libya | World news. Libyan Politics: News & Videos about Libyan Politics - CNN.com. A few useful tools to help the Revolutions. Oh hai all the protesters out there, we have followed closely the events and we want to provide you with some helpful hints.The revolution will not be televised, all information will be on the internet.But to get it there is one thing, to have it stay there is an entirely other thing.So here is a collection of tools and links that will help you get your message out: Contents: 1. Google launches 'Speak to Tweet' service in Libya. Big internet company from the United States, Google, appeared to be a mouthpiece for the people of Libya. Google ever did it during the regime of President of Egypt, Hosni Mubarak cut off internet connection. Now, Libya under the power of President Muammar al-Gaddafi also blocked Internet services, including social networking site Twitter.
How tweets and texts helped the rebels take Tripoli | | Brand & Content Curation. The Power of Nightmares (Part 1)
---
dontshootme Nov 12 2011

The source of the photos and video is one journalist, Sherif Elhelwa, and no-one else so far has verified it. Lot of people say it's fake and some people in Libya saying that the flag is not there anymore if it ever was. I'll put the links on the pearltree but here's the original article.

sceptical of the whole thing. Seems odd no other journalists (or civilians) can affirm this? Seems like main media is ignoring it, maybe because it's false or unconfirmed?

kathologist Nov 12 2011

I never did find an answer, did you?

ramdengroup Nov 10 2011

I've heard the same...my question; where the hell did they get flags from? Who has time to make that in a civil war? It's shady for sure.

kathologist Nov 4 2011

US Senator Dennis Kucinich says there is an Al Queda Flag flying over the gov't bldg in Bengazi-is that true?
---