Kaaaarl !
Editors' Photo Diary. Lagerfeld previews new 'Karl' collection at #leweb « fashion and mash. 7 Dec Here's a quick preview video of Karl Lagerfeld's new accessible womenswear line, Karl, which will launch exclusively online with Net-a-Porter on January 25.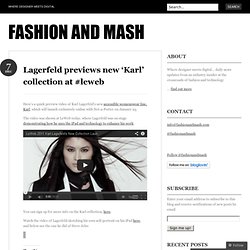 The video was shown at LeWeb today, where Lagerfeld was on stage demonstrating how he uses the iPad and technology to enhance his work. You can sign up for more info on the Karl collection, here. Watch the video of Lagerfeld sketching his own self-portrait on his iPad here, and below see the one he did of Steve Jobs: Karl Lagerfeld fait le show #leweb11 #intro. Karl Lagerfeld and Net-A-Porter to launch new online fashion startup. Le Web kicked off today in Paris, though the show was opened not with a discussion about a tech issue or company of the day, but with a demonstration by fashion scion Karl Lagerfeld on how he uses the iPad and technology to enhance his work.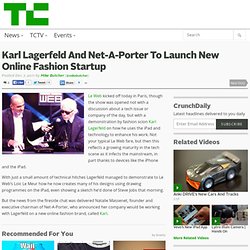 Not your typical Le Web fare, but then this reflects a growing maturity in the tech scene as it infects the mainstream, in part thanks to devices like the iPhone and the iPad. With just a small amount of technical hitches Lagerfeld managed to demonstrate to Le Web's Loic Le Meur how he now creates many of his designs using drawing programmes on the iPad, even showing a sketch he'd done of Steve Jobs that morning. But the news from the fireside chat was delivered Natalie Massenet, founder and executive chairman of Net-A-Porter, who announced her company would be working with Lagerfeld on a new online fashion brand, called Karl.
---