LOLeWeb
Zynga at LeWeb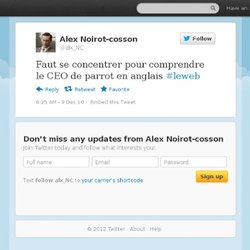 Language: English Bahasa Indonesia Bahasa Melayu
Alex Noirot-cosson: Faut se concentrer pour co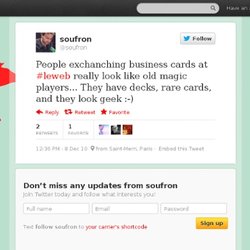 Language: English Bahasa Indonesia Bahasa Melayu Dansk Deutsch
soufron: People exchanching busines
Have an account? Sign in New to Twitter? Join Today » Forgot password? Already using Twitter via text message?
Socialmedia Bullshit (smbullshit) on Twitter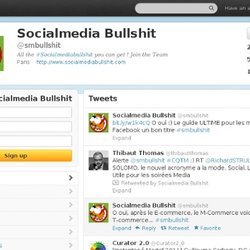 Jean Michel Billaut: Y a même mec de Sibérie at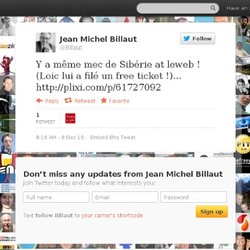 Language: English Bahasa Indonesia Bahasa Melayu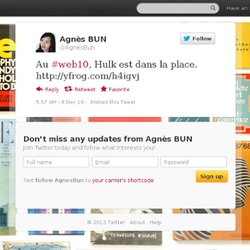 Agnès BUN: Au #web10, Hulk est dans l
Language: English Bahasa Indonesia Bahasa Melayu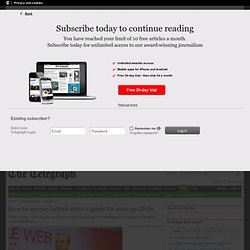 Why? Well, without going into too much of sales pitch on organiser Loïc Le Meur's behalf, there's a lot on offer - most importantly the opportunity to grab any one of 2,500 attendees from over 60 countries, including some of the biggest names in tech, and the chance to show off your start-up or Next Big Idea to whoever you can lay your hands on - including about 500 journalists. (That sounds like a huge number of journos per start-up, but as a CEO that's to your advantage: just think how many of them you'll be able to get hold of if you're clever about it.)
How to survive LeWeb 2010: a guide for start-up CEOs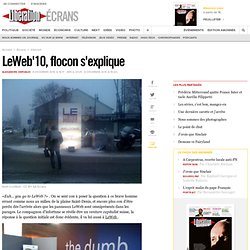 «Euh... you go to LeWeb ?» . On se sent con à poser la question à ce brave homme errant comme nous au milieu de la plaine Saint-Denis, et encore plus con d'être perdu dès l'arrivée alors que les panneaux LeWeb sont omniprésents dans les parages. Le compagnon d'infortune se révèle être un venture capitalist suisse, la réponse à la question initiale est donc évidente, il va lui aussi à LeWeb .
LeWeb'10, flocon s'explique
You have to see this – Loïc Le Meur in an Angry Birds costume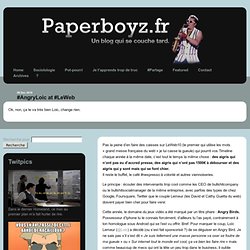 #AngryLoic at #LeWeb
Pas la peine d'en faire des caisses sur LeWeb10 (le premier qui utilise les mots « grand messe française du web » je lui casse la gueule) qui pourrit vos Timeline chaque année à la même date, c'est tout le temps la même chose : des aigris qui n'ont pas eu d'accred presse, des aigris qui n'ont pas 1500€ à débourser et des aigris qui y sont mais qui se font chier. Il reste le buffet, le café #nespresso à volonté et autres viennoiseries. Le principe : écouter des intervenants trop cool comme les CEO de bullshitcompany ou le bullshitsocialmanager de la même entreprise, avec parfois des types de chez Google, Foursquare, Twitter que le couple Lemeur (les David et Cathy Guetta du web) doivent payer bien cher pour faire venir. Cette année, le domaine du jeux vidéo a été marqué par un titre phare : Angry Birds. Possesseur d'Iphone tu le connais forcément, d'ailleurs tu l'as payé, contrairement à ton homologue sous Android qui se l'est vu offrir. Bref.
Loic (the Angry Bird) has captured the beautiful Geraldine at
LeWeb10
the simple image sharer
#loltoshop J'ai reçu mon invitation pour #leWeb : on Twitpic
oCV9M.jpg (Image JPEG, 1200x753 pixels)