Grants
Création d'un « fonds d'innovations pédagogiques »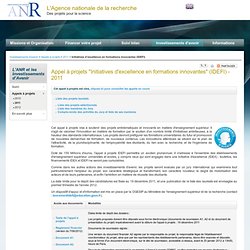 Appel à projets "Initiatives d'excellence en formations innovantes (IDEFI)" - Investissements d'Avenir
Cet appel à projets vise à soutenir des projets emblématiques et innovants en matière d'enseignement supérieur. Il s'agit de valoriser l'innovation en matière de formation par le soutien d'un nombre limité d'initiatives ambitieuses, à la hauteur des standards internationaux. Les projets devront préfigurer les formations universitaires du futur et promouvoir de nouvelles démarches de formation, de nouveaux contenus. Les innovations attendues se situent sur le plan de l'attractivité, de la pluridisciplinarité, de l'employabilité des étudiants, du lien avec la recherche, et de l'ingénierie de formation.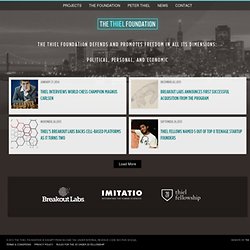 Fellowship to Host Third "Under 20 Summit" for Young Entrepreneurs in San Francisco June 1-2, 2013 SAN FRANCISCO – May 9, 2013 – Peter Thiel today introduced the 2013 class of new Thiel Fellows. The third set of young entrepreneurs to be awarded 20 Under 20 Thiel Fellowships, these fellows will pursue innovative scientific and technical projects, learn entrepreneurship from the ground up, and begin to build the innovative companies of tomorrow.
Thiel Fellowship
Bonderman Travel Fellowship - washington.edu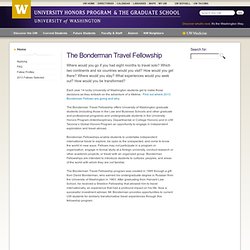 Bonderman Travel Fellowship Where would you go if you had eight months to travel solo? Which two continents and six countries would you visit? How would you get there?
Bonderman Slideshow_15thAnniv.mpg