Events
Journées de l'innovation 2012
Innovation et éducation
Education Hack Day
Edu'Hack'tion Meetups Everywhere - Meetup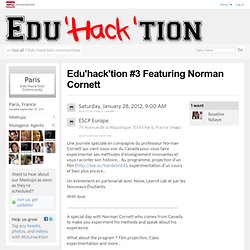 Edu'Hack'tion Meetup - Paris, France | Jan 28, 2012 - Meetup
Change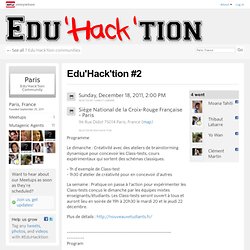 Edu'Hack'tion #2 - Paris, France | Dec 18, 2011 - Meetup
Change
Edu'Hack'tion #2 · asimov4
Hold-Up Cours de Maths : Idea Concept 3 on Vimeo
Hold-Up Cours de Maths : Idea Concept 2 on Vimeo
Hold-Up Cours de Maths : Idea Concept 1 on Vimeo
Hold-Up Développement Durable : Idea Concept 3 on Vimeo
Hold-Up Développement Durable : Idea Concept 2 on Vimeo
Hold-Up Développement Durable : Idea Concept 1 on Vimeo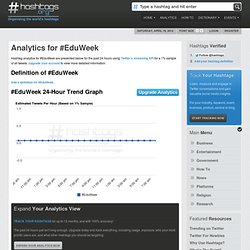 Hashtag analytics for #EduWeek are presented below for the past 24 hours using Twitter's streaming API for a 1% sample of all tweets. Upgrade your account to view more detailed information. Definition of #EduWeek
EduWeek
LearnitLab @CRI Edu'Hack'tion Community - Meetup
A propos du débriefing de la journée du 18 septembre : le chien a mangé la première version, le réveil n'a pas sonné pour la deuxième et les martiens ont enlevé la troisième. Du coup on rendra notre devoir avec un peu de retard :) En attendant, en avant-première, voici l'un des résultats de dimanche: un espace sur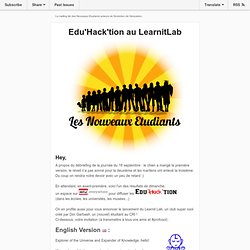 Edu'Hack'tion @LearnitLab @CRI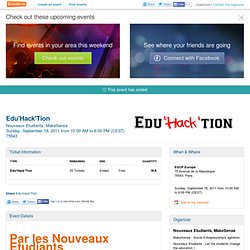 Invalid quantity. Please enter a quantity of 1 or more. The quantity you chose exceeds the quantity available. Please enter your name. Please enter an email address.
Edu'Hack'Tion - Education - Nightscience - Fabelier- Eventbrite
Edu'Hack'tion #1
Ben finalement qu'est-ce qu'on a fait dimanche ?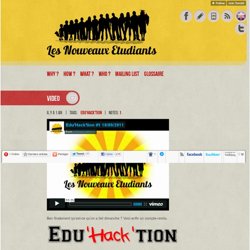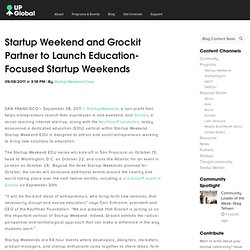 SAN FRANCISCO – September 08, 2011 – StartupWeekend, a non-profit that helps entrepreneurs launch their businesses in one weekend, and Grockit, a social-learning Internet start-up, along with the KauffmanFoundation, today announced a dedicated education (EDU) vertical within Startup Weekend. Startup Weekend EDU is designed to attract and assist entrepreneurs working to bring new solutions to education. The Startup Weekend EDU series will kick-off in San Francisco on October 15, head to Washington, D.C. on October 22, and cross the Atlantic for an event in London on October 29.
Startup Weekend and Grockit Partner to Launch Education-Focused Startup Weekends
StartupWeekend #Edu
Startup Weekend Seattle Edu
Videos of all Startup Weekend SEA EDU team pitches | TeachStreet Blog
Startup Weekend Edu Paris ?