Events
Innovation et éducation. Education Hack Day. Eduquer pour demain » Le Forum. Edu'Hack'tion Meetups Everywhere. Edu'Hack'tion Meetup - Paris, France | Jan 28, 2012. Change Une journée spéciale en compagnie du professeur Norman Cornett qui vient nous voir du Canada pour vous faire expérimenter ses méthodes d'enseignement innovantes et vous raconter son histoire...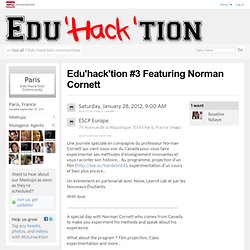 Au programme, projection d'un film ( expérimentation d'un cours et bien plus encore... Un évènement en partenariat avec Noise, Learnit Lab et par les Nouveaux Étudiants. Edu'Hack'tion #2 - Paris, France | Dec 18, 2011. Change Programme Le dimanche : Créativité avec des ateliers de brainstorming dynamique pour concevoir les Class-tests, cours expérimentaux qui sortent des schémas classiques. - 1h d'exemple de Class-test- 1h30 d'atelier de créativité pour en concevoir d'autres La semaine : Pratique on passe à l'action pour expérimenter les Class-tests conçus le dimanche par les équipes mixtes enseignants/étudiants.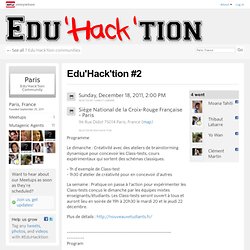 Edu'Hack'tion #2 · asimov4. Hold-Up Cours de Maths : Idea Concept 3. Hold-Up Cours de Maths : Idea Concept 2. Hold-Up Cours de Maths : Idea Concept 1. Hold-Up Développement Durable : Idea Concept 3. Hold-Up Développement Durable : Idea Concept 2. Hold-Up Développement Durable : Idea Concept 1. EduWeek. Hashtag analytics for #EduWeek are presented below for the past 24 hours using Twitter's streaming API for a 1% sample of all tweets.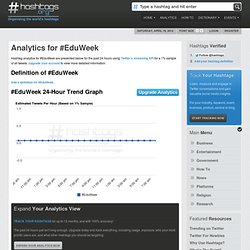 Upgrade your account to view more detailed information. Definition of #EduWeek.
LearnitLab @CRI Edu'Hack'tion Community. Edu'Hack'tion @LearnitLab @CRI. A propos du débriefing de la journée du 18 septembre : le chien a mangé la première version, le réveil n'a pas sonné pour la deuxième et les martiens ont enlevé la troisième.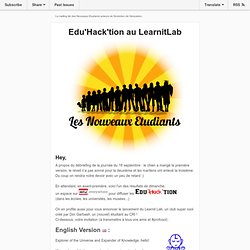 Du coup on rendra notre devoir avec un peu de retard :) En attendant, en avant-première, voici l'un des résultats de dimanche: un espace sur. Edu'Hack'Tion - Education - Nightscience - Fabelier- Eventbrite. Invalid quantity.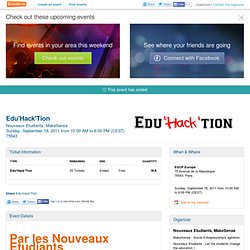 Please enter a quantity of 1 or more. The quantity you chose exceeds the quantity available. Please enter your name. Please enter an email address. Edu'Hack'tion #1. Ben finalement qu'est-ce qu'on a fait dimanche ?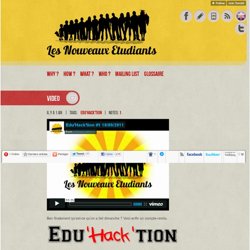 Voici enfin un compte-rendu. Le premier Edu'Hack'tion a eu lieu le dimanche 18 septembre à l'ESCP, de 10h à 18h. L'événement a rassemblé une cinquantaine d'Edu'Hackers pour 3 Hold-Ups et 2 Tracks. Startup Weekend. Startup Weekend and Grockit Partner to Launch Education-Focused Startup Weekends. SAN FRANCISCO – September 08, 2011 – StartupWeekend, a non-profit that helps entrepreneurs launch their businesses in one weekend, and Grockit, a social-learning Internet start-up, along with the KauffmanFoundation, today announced a dedicated education (EDU) vertical within Startup Weekend.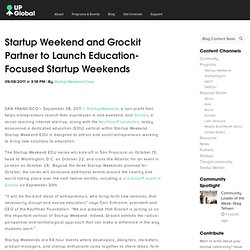 Startup Weekend EDU is designed to attract and assist entrepreneurs working to bring new solutions to education. The Startup Weekend EDU series will kick-off in San Francisco on October 15, head to Washington, D.C. on October 22, and cross the Atlantic for an event in London on October 29. StartupWeekend #Edu. Startup Weekend Seattle Edu. Videos of all Startup Weekend SEA EDU team pitches | TeachStreet Blog.
---