Events
Journées de l'innovation 2012
Innovation et éducation
Nouvelle conférence – Education Design
Education Hack Day
Accueil - Forum des Usages Coopératifs
TEDx Events - TEDxLondon
Edu'Hack'tion Meetups Everywhere - Meetup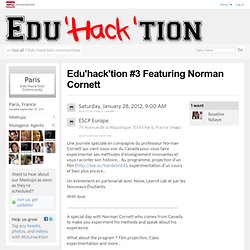 Edu'Hack'tion Meetup - Paris, France | Jan 28, 2012 - Meetup
Change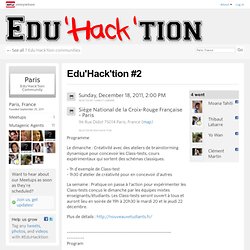 Edu'Hack'tion #2 - Paris, France | Dec 18, 2011 - Meetup
Change
Edu'Hack'tion #2 · asimov4
Hold-Up Cours de Maths : Idea Concept 3 on Vimeo
Hold-Up Cours de Maths : Idea Concept 2 on Vimeo
Hold-Up Cours de Maths : Idea Concept 1 on Vimeo
Hold-Up Développement Durable : Idea Concept 3 on Vimeo
Hold-Up Développement Durable : Idea Concept 2 on Vimeo
Hold-Up Développement Durable : Idea Concept 1 on Vimeo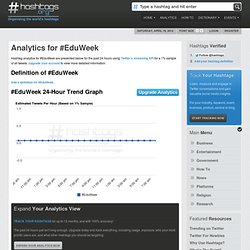 Hashtag analytics for #EduWeek are presented below for the past 24 hours using Twitter's streaming API for a 1% sample of all tweets. Upgrade your account to view more detailed information. Definition of #EduWeek
EduWeek
LearnitLab @CRI Edu'Hack'tion Community - Meetup
A propos du débriefing de la journée du 18 septembre : le chien a mangé la première version, le réveil n'a pas sonné pour la deuxième et les martiens ont enlevé la troisième. Du coup on rendra notre devoir avec un peu de retard :) En attendant, en avant-première, voici l'un des résultats de dimanche: un espace sur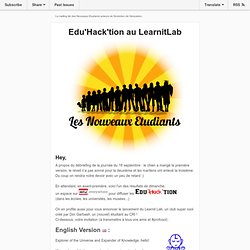 Edu'Hack'tion @LearnitLab @CRI
Edu'Hack'Tion - Education - Nightscience - Fabelier- Eventbrite
Edu'Hack'tion #1
Ben finalement qu'est-ce qu'on a fait dimanche ?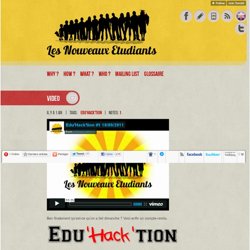 e-l@b - Ils veulent hacker l'éducation !
24h of innovation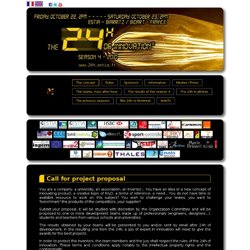 Call for project proposal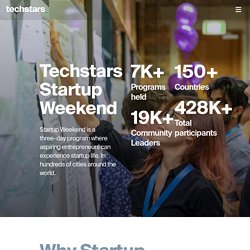 SAN FRANCISCO – September 08, 2011 – Startup Weekend , a non-profit that helps entrepreneurs launch their businesses in one weekend, and Grockit , a social-learning Internet start-up, along with the Kauffman Foundation , today announced a dedicated education (EDU) vertical within Startup Weekend.
Startup Weekend and Grockit Partner to Launch Education-Focused Startup Weekends
StartupWeekend #Edu
Startup Weekend Seattle Edu
Videos of all Startup Weekend SEA EDU team pitches | TeachStreet Blog
Startup Weekend Edu Paris ?