Les perles de la semaine du 18 juin
Press Release :: Guardian News & Media (GNM), publisher of the Guardian, has revealed plans to become a digital-first organisation, placing open journalism on the web at the heart of its strategy. Alan Rusbridger, editor-in-chief of GNM, and Andrew Miller, chief executive of parent company Guardian Media Group (GMG), today outlined to staff a major transformation programme in response to "inexorable trends" in media consumption.
A digital-first organisation? Guardian News & Media reveals its plans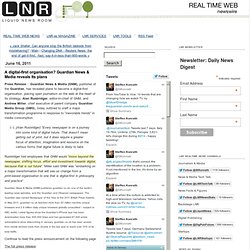 As media companies try desperately to solve their revenue problems by launching paywalls and subscription iPad apps, too few are looking at how connecting with their community (or communities) can help. That's the view of Public Radio International's vice-president of interactive, Michael Skoler, in a piece written for Harvard University's Nieman Foundation for Journalism. And I think he is right: engaging a community can be one of the most powerful tools that companies have in an era of real-time, distributed and hyper-social media.
Future of media: Community is your new business model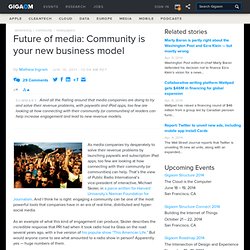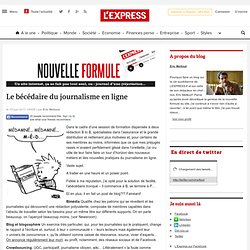 Dans le cadre d'une session de formation dispensée à deux rédaction B to B, spécialisées dans l'assurance et la grande distribution et nettement plus motivées et, pour certains de ses membres au moins, informées que ce que mes préjugés rassis m'avaient perfidement glissé dans l'oreillette, j'ai cru utile de leur faire faire un tour d'horizon des nouveaux métiers et des nouvelles pratiques du journalisme en ligne. Vaste sujet.
PricewaterhouseCoopers annonce une croissance de 5,7 % par an d'ici à 2015. Le monde des loisirs et des médias reprend des couleurs. Après deux années de crise sans précédent - 2008 et 2009 -, la croissance est à nouveau au rendez-vous pour quelques années.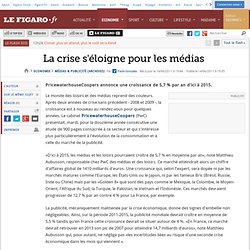 Médias & Publicité : La crise s'éloigne pour les médias 
BBC developing new iPhone app for field reporters
New app, due to be put in to service 'imminently', will allow reporters to submit content directly into the BBC system from an iPhone The BBC is developing an app that will allow its reporters in the field to file video, stills and audio directly into the BBC system from an iPhone or iPad.
Point à la ligne (jaune)