Les perles de la semaine du 18 juin
Guidelines for Use of Tweets in Broadcast or Other Offline Media. A digital-first organisation? Guardian News & Media reveals its plans. Press Release :: Guardian News & Media (GNM), publisher of the Guardian, has revealed plans to become a digital-first organisation, placing open journalism on the web at the heart of its strategy.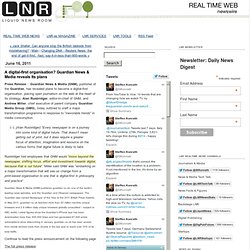 Alan Rusbridger, editor-in-chief of GNM, and Andrew Miller, chief executive of parent company Guardian Media Group (GMG), today outlined to staff a major transformation programme in response to "inexorable trends" in media consumption. [Alan Rusbridger] "Every newspaper is on a journey into some kind of digital future. That doesn't mean getting out of print, but it does require a greater focus of attention, imagination and resource on the various forms that digital future is likely to take. Rusbridger told employees that GNM would "move beyond the newspaper, shifting focus, effort and investment towards digital, because that is our future". Future of media: Community is your new business model. As media companies try desperately to solve their revenue problems by launching paywalls and subscription iPad apps, too few are looking at how connecting with their community (or communities) can help.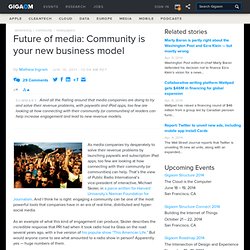 That's the view of Public Radio International's vice-president of interactive, Michael Skoler, in a piece written for Harvard University's Nieman Foundation for Journalism. And I think he is right: engaging a community can be one of the most powerful tools that companies have in an era of real-time, distributed and hyper-social media. Le bécédaire du journalisme en ligne | Nouvelle formule. Dans le cadre d'une session de formation dispensée à deux rédaction B to B, spécialisées dans l'assurance et la grande distribution et nettement plus motivées et, pour certains de ses membres au moins, informées que ce que mes préjugés rassis m'avaient perfidement glissé dans l'oreillette, j'ai cru utile de leur faire faire un tour d'horizon des nouveaux métiers et des nouvelles pratiques du journalisme en ligne.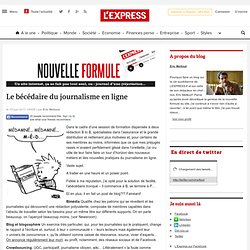 Vaste sujet. A traiter en une heure et un power point. Fidèle à ma réputation, j'ai opté pour la solution de facilité, l'abécédaire tronqué – il commence à B, se termine à P… Et en plus, il en fait un post de blog?!? Fainéant! Médias & Publicité : La crise s'éloigne pour les médias  PricewaterhouseCoopers annonce une croissance de 5,7 % par an d'ici à 2015.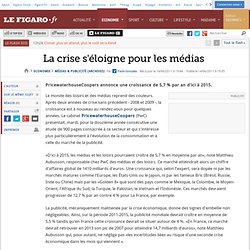 Le monde des loisirs et des médias reprend des couleurs. Après deux années de crise sans précédent - 2008 et 2009 -, la croissance est à nouveau au rendez-vous pour quelques années. BBC developing new iPhone app for field reporters. New app, due to be put in to service 'imminently', will allow reporters to submit content directly into the BBC system from an iPhone The BBC is developing an app that will allow its reporters in the field to file video, stills and audio directly into the BBC system from an iPhone or iPad.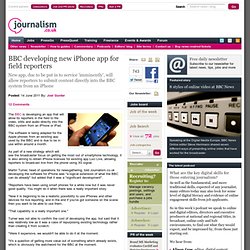 The software is being adapted for the Apple phones from an existing app used by the BBC and is due to be in use within around a month. As part of a new strategy which will see the broadcaster focus on getting the most out of smartphone technology, it is also aiming to obtain iPhone licenses for existing app Luci Live, allowing reporters to broadcast live from the phone using 3G signal. Martin Turner, head of operations for newsgathering, told Journalism.co.uk developing the software for iPhone was "a logical extension of what the BBC can do already" but added that it was a "significant development".
"Reporters have been using smart phones for a while now but it was never good quality. Point à la ligne (jaune) A History of Modern Music: the timeline. Twitter source de 47% des journalistes d'après l'enquête réalisée par Oriella PR Network.
---