Les liens de la semaine - 10 avril
General Session: Newspapers—A Path Forward. SUR MON ECRAN RADAR. Miscellanees.net - blog prolixe pub, marketing & conso, high tech, innovations. Social journalism. Banalisation. La banalisation du Front national, c'était trop banal.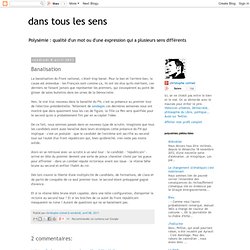 Pour le ban et l'arrière-ban, la cause est entendue : les Français sont comme ça, ils ont les élus qu'ils méritent, ces derniers ne faisant jamais que représenter les premiers, qui s'exaspèrent au point de glisser de sales bulletins dans les urnes de la Démocratie. Non, le vrai truc nouveau dans la banalité du FN, c'est sa présence au premier tour de l'élection présidentielle. Tellement de sondages ces dernières semaines nous ont montré que dans quasiment tous les cas de figure, la fille Le Pen sera qualifiée pour le second qu'on a probablement fini par en accepter l'idée. De ce fait, nous sommes passés dans un nouveau type de scrutin. Imaginons que tous les candidats aient aussi banalisé dans leurs stratégies cette présence du FN qui implique - c'est un postulat - que le candidat de l'extrême soit sacrifié au second tour sur l'autel d'un front républicain qui, bien qu'ébréché, n'en reste pas moins solide.
AP Union Tells Members to Stop Tweeting. As contract negotiations resume between executives for the AP wire services and the News Media Guild, the labor union is calling for a "tweet-out.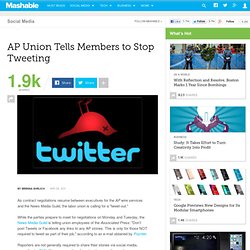 " While the parties prepare to meet for negotiations on Monday and Tuesday, the News Media Guild is telling union employees of the Associated Press: "Don't post Tweets or Facebook any links to any AP stories. This is only for those NOT required to tweet as part of their job," according to an e-mail obtained by Poynter. Reporters are not generally required to share their stories via social media, according to CNN; it's more a matter of graciously supporting one's company, or self-promotion.
While the tweet-out is only one part of the planned protests — in the past, AP journalists nixed their names from their stories and photos. Les maires de France connectés à internet mais absents des réseaux sociaux (sondage) Why Are Newsrooms Resistant to Creating Newsgames? This past weekend a group of 25 game developers, academics and journalists gathered at the University of Minnesota's Journalism Center to examine the state of newsgames.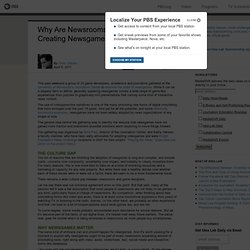 While it can be a slippery term to define, generally speaking newsgames covers a wide range of game-like experiences from puzzles to graphically-rich presentations that convey some kind of interactive news content. The use of videogame-like narratives is one of the many promising new forms of digital storytelling that have emerged over the past 15 years. And yet for all the potential, and some extremely successful examples, newsgames have not been widely adopted by news organizations of any shape or size.
The general idea behind the gathering was to identify the reasons that newsgames have not gained more traction and brainstorm possible solutions worth exploring to move things forward. Detective Avenue - Article transmedia. Par Laurent Guérin - Producteur de Detective Avenue L'autre soir, un ami notaire que je n'avais pas vu depuis 10 ans me demanda poliment ce que je devenais.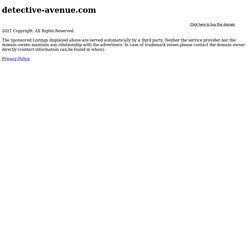 Je fabrique des programmes transmedia, lui répondis-je après qu'il m'a confié que les deux dernières lois sur le divorce -sa spécialité- étaient les éléments récents qui avaient le plus fait évoluer son métier. C'est quoi la différence avec le multimédia ? Newseum : cinq siècles d'histoire des médias. Le Newseum est un musée consacré aux médias installé à Washington (États-Unis).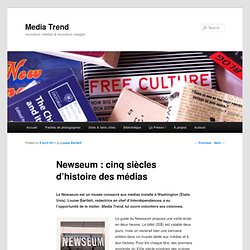 Louise Bartlett, rédactrice en chef d'Interdépendances, a eu l'opportunité de le visiter. Media Trend, lui ouvre volontiers ses colonnes. CC Son of Groucho Le guide du Newseum propose une visite éclair en deux heures. Le billet (20$) est valable deux jours, mais on resterait bien une semaine entière dans ce musée dédié aux médias et à leur histoire.
---