Réactions Médias
Hackers attack Iranian government websites | Politics. Azerbaijan , Baku, Feb. 18 /Trend T.Konyayeva/ Attacks of an anonymous group of hackers on Iranian government websites at the Foreign Ministry, the Organization of Atomic Energy, the Islamic Republic of Iran Broadcasting Organization have caused many of these websites to become inaccessible by their visitors for more than a day, a source close to this anonymous group told, the International Campaign for Human Rights in Iran's official statement reported.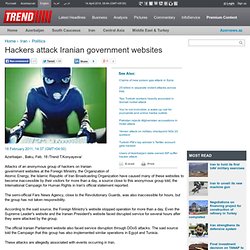 The semi-official Fars News Agency, close to the Revolutionary Guards, was also inaccessible for hours, but the group has not taken responsibility. According to the said source, the Foreign Ministry's website stopped operation for more than a day. Even the Supreme Leader's website and the Iranian President's website faced disrupted service for several hours after they were attacked by the group. The official Iranian Parliament website also faced service disruption through DDoS attacks. Anonymous and the global correction. The tendency to relate past events to what is possible in the present becomes more difficult as the scope of the geopolitical environment changes.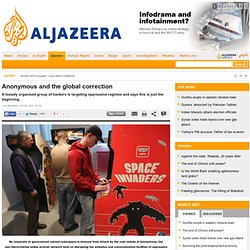 It is a useful thing, then, to ask every once in a while if the environment has recently undergone any particular severe changes, thereby expanding our options for the future. Terminology, let alone our means of exchanging information, has changed to such a degree that many essential discussions in today's "communications age" would be entirely incomprehensible to many two decades ago. As the social, political and technological environment has developed, some have already begun to explore new options, seizing new chances for digital activism - and more will soon join in.
It is time for the rest of the world to understand why. Anon & Anthropology of Hacking. Anonymous is not a force to be reckoned with.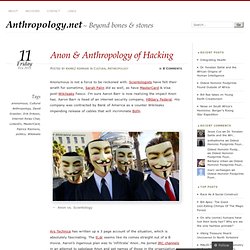 Scientologists have felt their wrath for sometime, Sarah Palin did as well, as have MasterCard & Visa post-Wikileaks fiasco. I'm sure Aaron Barr is now realizing the impact Anon has. Aaron Barr is head of an internet security company, HBGary Federal. His company was contracted by Bank of America as a counter Wikileaks impending release of cables that will incriminate BofA. Cyber Self Defence – Techniques For Avoiding Surveillance And The Censor » internet surveillance, vietnam, internet, china internet, censorship, burma » RFA Unplugged. Press Room | About | Contact Cambodia Opposition Deputy Leader Vows Party 'Won't Betray the People' Kem Sokha says the CNRP will stand firm in negotiations with the ruling party.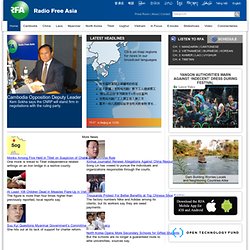 Latest Headlines 10.0° in Beijing at. Anonymous' Target Planned to "Take Down" WikiLeaks. Careful, we're entering some really crazy conspiracy level stuff here.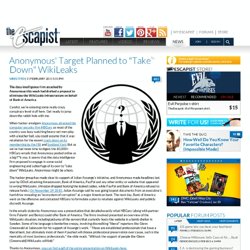 Get ready to jump down the rabbit hole with me. When hacker amalgam Anonymous attacked the computer security firm HBGary as most of the country was busy watching heavy-set men play with a leather ball, you could assume that it was retaliation for the recent crack down on its membership by the FBI and Scotland Yard . The Anatomy of Anonymous – An Analysis Of Probable Future Actions | Through the Looking Glass. The Anatomy of Anonymous - image courtesy of Ralf Roletschek and Mattbuck To understand a problem, you have to analyze it's anatomy.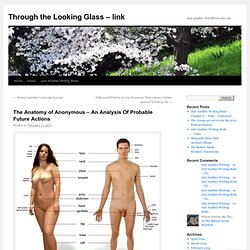 Let's look at what we've learned about Anonymous so far. Known Facts About Anonymous. We Are Anonymous. Ils ont lancé des attaques contre les sites financiers qui avaient tenté d'étrangler Wikileaks.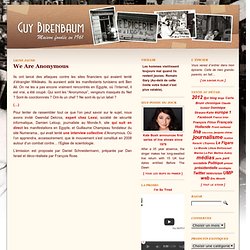 Ils auraient aidé les manifestants tunisiens anti Ben Ali. On ne les a pas encore vraiment rencontrés en Egypte, où l'Internet, il est vrai, a été coupé. Qui sont les "Anonymous", vengeurs masqués du Net ? Palantir confirme son plan anti-Wikileaks mais le condamne. Firm hacked by 'Anonymous' plotted against WikiLeaks on bank's behalf: report | Raw Story.
By Eric W.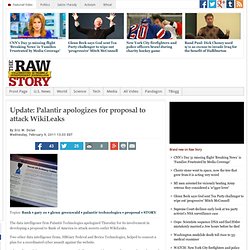 DolanWednesday, February 9, 2011 13:33 EDT The data intelligence firm Palantir Technologies apologized Thursday for its involvement in developing a proposal to Bank of America to attack secrets outlet WikiLeaks. Two other data intelligence firms, HBGary Federal and Berico Technologies, helped to concoct a plan for a coordinated cyber assault against the website. Hackers Target Gene Simmons Websites After Panel Comments. Anonymous trains sights on Yemen after Egypt | Raw Story. By Agence France-PresseFriday, February 4, 2011 8:21 EDT WASHINGTON – The loose-knit group of online global hackers known as "Anonymous" has trained its sights on Yemen following cyber attacks on government websites in Tunisia and Egypt.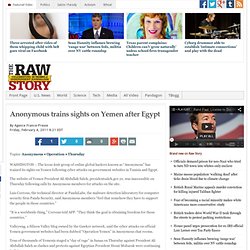 The website of Yemen President Ali Abdullah Saleh, presidentsaleh.gov.ye, was inaccessible on Thursday following calls by Anonymous members for attacks on the site. Luis Corrons, the technical director at PandaLabs, the malware detection laboratory for computer security firm Panda Security, said Anonymous members "feel that somehow they have to support the people in those countries." "It is a worldwide thing," Corrons told AFP. Quand Wikileaks affole les oligarchies. (Wikimedia Commons - Anonymous Editor - cc) Jeudi dernier, le FBI a arrêté un auvergnat de 15 ans, soupçonné être un membre actif du collectif Internet Anonymous.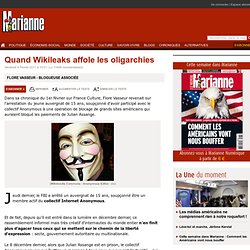 Et de fait, depuis qu'il est entré dans la lumière en décembre dernier, ce rassemblement informel mais très créatif d'internautes du monde entier n'en finit plus d'agacer tous ceux qui se mettent sur le chemin de la liberté d'expression : secte, gouvernement autoritaire ou multinationale.Le 8 décembre dernier, alors que Julian Assange est en prison, le collectif Anonymous envoie sur Twitter un message à tous ceux qui suivent l'actualité - qui suivent le fil - de WikiLeaks.
"Bonjour, vous avez demandé les Anonymous" » Article » OWNI, Digital Journalism. Tandis que l'attention des médias se concentre sur un adolescent français soupçonné de diriger les Anonymous, ceux-ci continuent de s'organiser en Tunisie et en Egypte. Et si on rétablissait quelques vérités au lieu d'agiter les bras? "Petit génie du web", "soupçonné d'avoir participé à une cyberattaque internationale", "passionné par l'informatique depuis qu'il a 6 ans", et même "cerveau des vengeurs de WikiLeaks".
Depuis quelques jours, la presse s'emballe autour du cas d'un adolescent auvergnat de 15 ans, entendu par la police il y a six semaines à propos de son rôle dans la réponse pro-WikiLeaks: au mois de décembre, alors que plusieurs organismes bancaires tels que Visa ou MasterCard avaient décidé de couper l'approvisionnement du site de Julian Assange, les Anonymous avaient massivement riposté en lançant une série d'attaques par déni de service (DDoS), paralysant les sites des entreprises incriminées.
Une attaque informatique est-elle une forme de manifestation ? C'est une ligne de défense assez originale : vendredi 28 janvier, au lendemain de l'arrestation en Grande-Bretagne et en France de cinq personnes soupçonnées d'avoir participé à des attaques informatiques contre les sites de PayPal et MasterCard, l'un des sites utilisés par le réseau Anonymous estime qu'une telle attaque est comparable à une manifestation. Le site AnonNews, qui héberge notamment un canal de discussion et divers textes, se revendique comme un site d'information par et pour les membres du réseau Anonymous, un groupe informel d'activistes se réunissant ponctuellement autour d'une cause.
Fin 2010 plusieurs attaques avaient visé les sites de PayPal et MasterCard, en représailles contre leur décision de geler des comptes liés à WikiLeaks ou à son cofondateur, Julian Assange. Anonymous menace le gouvernement égyptien  Par publié le 27 janvier 2011 à 12 h 16 Le collectif de pirates informatiques, , somme le gouvernement égyptien de respecter la liberté d'expression des manifestants qui demandent le départ du président Hosni Moubarak et de permettre la libre circulation de l'information dans les médias et sur Internet, sans quoi il menace d'attaquer les sites web gouvernementaux.
Le groupe a publié cette vidéo en guise d'avertissement aux autorités égyptiennes : Rappelons qu' a bloqué plusieurs sites officiels du gouvernement tunisien au début du mois de janvier afin de protester contre la répression policière et la censure dans ce pays. Anonymous Egypt and Algeria operations show a complex cyber-movement. "Our assessment is that the Egyptian government is stable and is looking for ways to respond to the legitimate needs and interests of the Egyptian people."
Hillary Clinton, January 25, Washington "When asked about the revolt in Egypt, 72% of american adults agreed that they should overthrow the current Pharaoh." Anonymous member, #opegypt IRC, January 26, Hackers vengeurs et espions en diligence | Presseurop – français. Pour le célèbre romancier et intellectuel Umberto Eco, l'affaire WikiLeaks ou "Cablegate" souligne l'hypocrisie qui régit les rapport entre les Etats, les citoyens et la presse et préfigure un retour vers des méthodes archaïques de communication.
L'affaire WikiLeaks a une double valeur. D'un côté, elle se révèle un scandale apparent, un scandale qui n'apparaît comme tel que devant l'hypocrisie qui régit les rapports entre les Etats, les citoyens et la presse. WikiLeaks : la pression monte, la résistance s'organise. Sous le feu de hackers, Wikileaks se réfugie dans le cloud d'Amazon. 10 Lessons for Gov 2.0 from Web 2.0. "The Jester", le hacker patriote qui aurait piraté Wikileaks. La panne de WikiLeaks revendiquée. Les soutiens de WikiLeaks contre-attaquent sur le web. Anonymous Attacks Swiss Bank After Assange's Account Closed.
La guerre de l'information n'est pas la cyberguerre - Owni. WikiLeaks : LOIC, l'outil clé en main de l'"Opération riposte" Les Anonymous promettent de s'attaquer au gouvernement Algérien. Anonymous s'attaque maintenant à une entreprise de sécurité américaine - Actualités Techno - Sécurité.
---