#HBGary
How Aaron Barr Infiltrated Anonymous, and Why He Decided to Do It. Ars Technica's Nate Anderson has put together a long and fascinating report on the tumultuous recent history of Aaron Barr -- the security expert who successfully infiltrated Anonymous, and then got burned, after running to the FBI with his findings.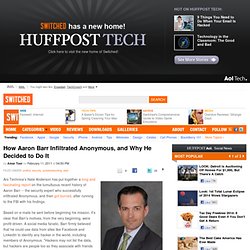 Based on e-mails he sent before beginning his mission, it's clear that Barr's motives, from the very beginning, were profit-driven. A social media fanatic, Barr firmly believed that he could use data from sites like Facebook and LinkedIn to identify any hacker in the world, including members of Anonymous. Anonymous unleashes its wrath on informant - Technology & science - Security. The Internet "hacktivist" collective known as Anonymous has unleashed a full-scale and crippling online attack on a man who was about to blow the roof off the group's hidden identity.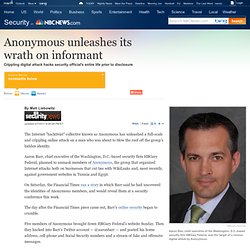 Aaron Barr, chief executive of the Washington, D.C. -based security firm HBGary Federal, planned to unmask members of Anonymous, the group that organized Internet attacks both on businesses that cut ties with WikiLeaks and, most recently, against government websites in Tunisia and Egypt. On Saturday, the Financial Times ran a story in which Barr said he had uncovered the identities of Anonymous members, and would reveal them at a security conference this week. The day after the Financial Times piece came out, Barr's online security began to crumble.
Hackers Clash With HBGary Over Secret Inquiries.
---