Canadian Legal Publishers
CCH Canadian
Carswell: Authoritative. Innovative. Trusted.
Search For Go Advanced Search >> WestlawNext® Canada. View a 2 minute demo.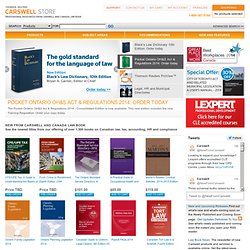 Canada Law Book - Publishing Law Since 1855
Finding Legal Information: A Blog About Finding Law and Legal Information and Managing Online Research
Google has delivered two new sidebar research tools in the past month. The first, the Research sidebar , appeared in Google Docs and copies the Microsoft Office research sidebar. Neither one is especially powerful unless the research resources you are looking for are embedded. Fortunately, you can find the Google Web search and Microsoft Bing search as a baseline. Search for Katko v.