LAGERE SCHOOL
41 Websites for Teachers to Integrate Tech into Your Classroom. Every Friday I'll send you a wonderful website that my classes and my parents love.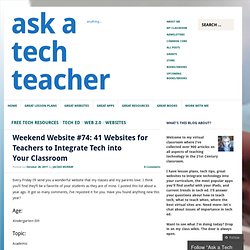 I think you'll find they'll be a favorite of your students as they are of mine. I posted this list about a year ago. It got so many comments, I've reposted it for you. Have you found anything new this year? *Recently Added.
Antoine van Dinter: Frans & ICT. Vanaf dit schooljaar kunnen studenten van Hogeschool De Kempel in Helmond ervoor kiezen om uitleg-video's te maken voor het e-learning platform Khan Academie.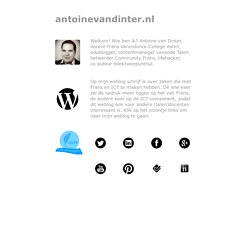 Met het vak ICT & Media kunnen de studenten van de lerarenopleiding punten verdienen door zelf uitleg-video's te maken bij al bestaande oefeningen van Khan Academie. In eerste instantie zullen zij zich richten op rekenen en taal voor het basisonderwijs. De studenten zullen tijdens het maken van video's experimenteren met verschillende technieken om de video's te maken. SPAAZE. Evernote. Khamsa.yurls.net. Clipconverter.cc Convert.files Convertdirect DocsPal - Free online file Converter and Viewer FileWiggler - Free File Conversions Free File Converter Free Online OCR - Convert JPEG, PNG, GIF, BMP, TIFF, PDF, DjVu to Text Gifmaker me: Online Animated GIF Maker & Creator - Make A GIF Easily Gifninja.com: Make Animated Gifs easily with gifninja.com Grab online videos for free with Video Grabber, Grab video from YouTube, google video, Dailymotion, vevo, Vimeo and many others Iaza: Free Online Image Conversion - Simple & Easy Converter (Images, Graphics, Avatars, Anime ...)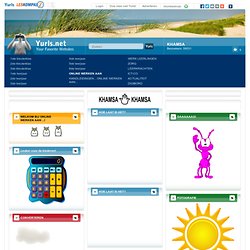 Image vectorizer iWeb2Print - Free Online Web Page to Printer Friendly PDF - Sciweavers Magazinify: Convert your Bookmarks and Favorite Articles into a pdf | Magazinify Mediaconverter.org Online converter - convert video, images, audio and documents for free Online Youtube Converter - Convert Online flv Youtube Videos - Convert youtube videos. KlasCement.be. Mediawijsheid voor leerkrachten Scoop.it. ICT-idee. ICT Planning. Manssen.nl - Computers in de Klas.
---