Personal Development
Break a Perfectionism and Procrastination Connection Now. Humorist Walt Kelly titled his book, We Have Met the Enemy and He is Us .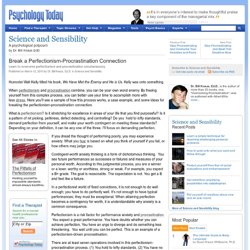 Kelly was onto something. When perfectionism and procrastination combine, you can be your own worst enemy. By freeing yourself from this complex process, you can better use your time to accomplish more with less stress . Here you'll see a sample of how this process works, a case example, and some ideas for breaking the perfectionism-procrastination connection.
40 Photo-Illustrated Questions to Refocus Your Mind. Post written by: Marc Chernoff Email Asking the right questions is the answer… It's not the answers you get from others that will help you, but the questions you ask of yourself.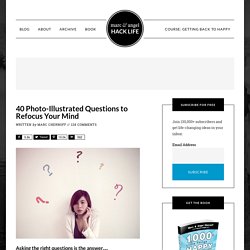 Here are 40 thought-provoking questions to help you refresh and refocus your thinking: Book - 9 insights on life. 60 Ways To Become The Person You Love!! | Nudge-ur-Mind. How To Train Yourself To Be In The Mood You Want. Dec 27, 2010 When you have major changes going on in your life, or you're just frustrated about where you are, it's easy to get trapped in a cycle of depression, bad moods and frustration.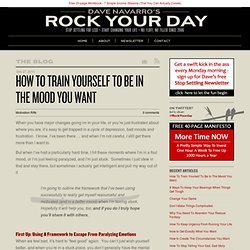 I know, I've been there … and when I'm not careful, I still get there more than I want to. But when I've had a particularly hard time, I hit these moments where I'm in a foul mood, or I'm just feeling paralyzed, and I'm just stuck. Sometimes I just stew in that and stay there, but sometimes I actually get intelligent and pull my way out of it. How To Talk To Girls | Beyond Pick Up. 30 Things to Stop Doing to Yourself. Post written by: Marc Chernoff Email When you stop chasing the wrong things you give the right things a chance to catch you.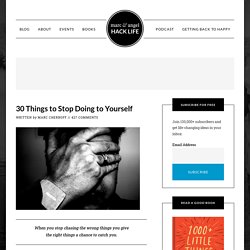 As Maria Robinson once said, "Nobody can go back and start a new beginning, but anyone can start today and make a new ending." Nothing could be closer to the truth. But before you can begin this process of transformation you have to stop doing the things that have been holding you back. 100 Tips About Life, People, and Happiness.
1.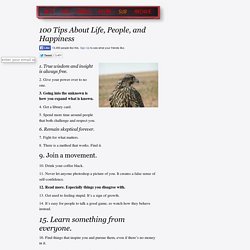 True wisdom and insight is always free. 2. Give your power over to no one. 3. The Power Of The Mind: How To Train Yourself To Be More Successful : Managing. How can you use the latest discoveries in brain science to improve your life?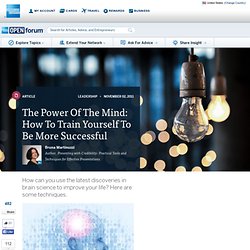 Here are some techniques. November 02, 2011 Leadership tycoon Warren Bennis once said, "We seem to collect information because we have the ability to do so, but we are so busy collecting it that we haven't devised a means of using it. The true measure of any society is not what it knows but what it does with what it knows." There is a wealth of information at our disposal today on the latest discoveries in brain science. Quotes. Beware of your thoughts, they become your words.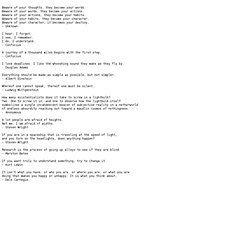 Beware of your words, they become your actions. Beware of your actions, they become your habits. Beware of your habits, they become your character. How to Make Small Talk" 20 Things Life Is Too Short To Tolerate. Post written by: Marc Chernoff Email You don't have to settle, it's simply a choice you make every day.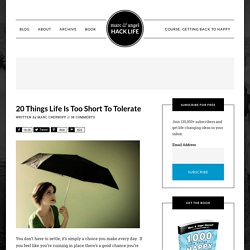 Don't Put Your Life On Hold... 10 Ways To Be Happy, On Purpose. "He who depends on himself will attain the greatest happiness" ~Chinese Proverb I was at a Women's Leadership Conference about a year ago and had an "ah-ha moment".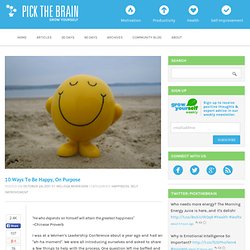 We were all introducing ourselves and asked to share a few things to help with the process. One question left me baffled and ultimately changed my life; "What do you do to make yourself happy?". Welcome to Explorations in Science with Dr. Michio Kaku. The 48 Laws of Power. Background[edit] Greene initially formulated some of the ideas in The 48 Laws of Power while working as a writer in Hollywood and observing that today's power elite shared similar traits with powerful figures throughout history.[4] In 1995, Greene worked as a writer at Fabrica, an art and media school, and met a book packager named Joost Elffers.[6][9] Greene pitched a book about power to Elffers and six months later, Elffers requested that Greene write a treatment.[6] Although Greene was unhappy in his current job, he was comfortable and saw the time needed to write a proper book proposal as too risky.[11] However, at the time Greene was rereading his favorite biography about Julius Caesar and took inspiration from Caesar's decision to cross the Rubicon River and fight Pompey, thus inciting the Great Roman Civil War.[11] Greene would follow Caesar's example and write the treatment, which later became The 48 Laws of Power.[11] He would note this as the turning point of his life.[11]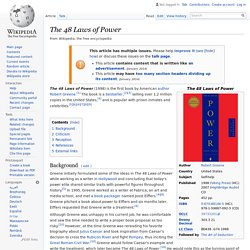 120 Ways to Boost Your Brain Power. Here are 120 things you can do starting today to help you think faster, improve memory, comprehend information better and unleash your brain's full potential. Solve puzzles and brainteasers.Cultivate ambidexterity. Use your non-dominant hand to brush your teeth, comb your hair or use the mouse. Write with both hands simultaneously. Switch hands for knife and fork.Embrace ambiguity. Learn to enjoy things like paradoxes and optical illusions.Learn mind mapping.Block one or more senses. Top 100 Personal Development Blogs. Personal development can affect all aspects of your life, from controlling your negative thoughts to gaining the self-confidence to excel at work. If you're in need of some inspiration to get you on the right road to improving yourself, the Internet is full of blogs that can offer guidance, advice and support to aid you in your journey.
We've brought together 100 here, in no particular order, to help you get started. Do As One. 11 Reasons to Stop Dreaming and Start Planning Your Round the World Trip. Sign up today for Plan Your RTW Trip in 30 Days and start receiving email lesson plans tomorrow – it's free! If you're a traveling family, sign up for the Family Edition of Plan Your RTW Trip in 30 Days. You may never have heard or read the letters R-T-W before. If you don't know their meaning, that's all right. If you do know their meaning and have contemplated taking one, then you have come to the right place. 10 Wise Choices to Skyrocket Your Happiness. "The amount of happiness that you have depends on the amount of freedom you have in your heart." – Thich Nhat Hanh Who doesn't want to be happy? Just take a look at any moment of your life, any choice you make. Isn't your intention to be happy?
Wisdom in few words: best motivational quotes | ZZE.ST - inspiration & lifehacks to make life better. Workout Program for People that Hate Working Out. Lucid Dreaming Community & Resource - Home. Hope. TED: Ideas worth spreading. 20 Ways To Train Your Brain For Peak Performance. Tomorrow Starts Today | elegantlysaid.com. A Simple Secret To Remember Anything. How to Use Your Subconscious to Change Your Life. 50 Questions That Will Free Your Mind. Life:Explained. 43 Simple Ways To Simplify Your Life. How to Build Self-Discipline. Life:Explained. Enjoy a Stress Free Life. Mind Tools - Management Training, Leadership Training and Career Training. A Happiness Tip From Aristotle. Feedbackers.biz Blog - How To Plan and Prioritize Effectively.
Wisdom 101. LifeOrganizers.com How to organize your home and office, organizing tips, articles on organizing. Start Your Day in 33 Different Ways. Your Confidence Guide. Lucid Dreaming. Managing Yourself: A Smarter Way to Network. Top 10 Ways To Show Confidence With Body Language. The Importance of Goal Setting. 10 simple ways to save yourself from messing up your life. They Did Not Give Up. Stop Criticizing Your Body and Start Critiquing Our Culture's Devotion to Thinness.
Motivation and Self Improvement. 12 Critical Things You Should Never Tolerate. Psychology. 60 Ways to Become The Person You Love. CogniFit Brain Fitness And Memory Programs, Brain Training. The 26 Best Self-Improvement Posts Ever. Personal Development for Smart People - Steve Pavlina.
---