Learning Disabilities
Special Educational Needs
Learning Disability Help: Children with Learning Disabilities « arch-online.org – your guide to disability rights and disability truths.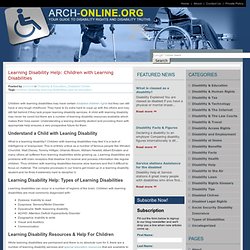 Children with learning disabilities may have certain disabled children rights but they can still have a very tough childhood. They have to try extra hard to cope up with the others and may still fall behind if they lack proper learning disability services. A child with learning disability may never be cured but there are a number of learning disability resources available which makes their lives easier.
News stories of interest to parents of children with learning disabilities, from the Parenting Special Needs blog and news sources around the Web. For the latest news, go to the Today's News folder. The Special Education Law Blog looks at the needs of kids who are both gifted and learning disabled. Expert advice from Different Dream for My Child. Life After IEPs reports on an online community for kids with learning disabilities. About.com's guide to Learning Disabilities rounds them up.
Learning Disabilities in the News - News Stories on Learning Disabilities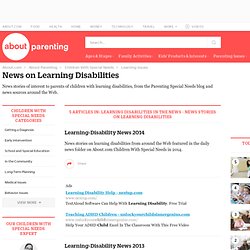 International Dyslexia Association