Lean
La France est une « Grande famille » qui prône les concepts du bien être et de l'égalité pour tous. A l'issue de la Seconde Guerre Mondiale, l'État Français, sous l'impulsion d'un gouvernement d'union nationale, a eu la volonté de garantir les besoins essentiels pour l'ensemble de ses citoyens comme la santé, l'éducation, la justice ou encore la sécurité. Déjà, en 1945, le Conseil National de la Résistance avait pour but de refonder l'État. Dans cette perspective, la construction d'un service public fort (nationalisation de l'énergie, des assurances et des banques, création de la Sécurité Sociale, etc .) s'est imposée. Cette dynamique s'est poursuivie en 1958.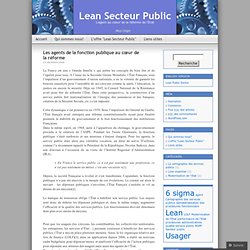 Conseils pratiques pour démarrer une démarche Lean et donner une autre dimension à votre entreprise.
Lean Manufacturing Blog, Kaizen Articles and Advice | Gemba Panta Rei
BMGI Click and Learn
In the simplest of terms, a hypothesis test is a way to use statistics to answer a practical question. Statistical tests of hypothesis can be used to provide an answer to pratical questions, based on sample data. Without hypothesis tests, we may overreact to situations without data, mistaking randomness for variation. This BMGI wizard will help you walk through the Hypothesis Testing Roadmap to select the best hypothesis test for your project. Available for download on iTunes and Android Market .
Tools and Templates | BMGI.org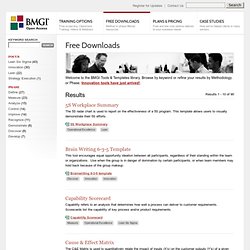 All I Really Need to Know about Lean I Learned at Waffle House [guest post] | Gemba Tales
Ok, so the title is a little overreaching, but so was, "All I really need to know about life I learned in kindergarten," and that didn't stop that email from being forwarded a few million times. My learning experience began at about 4 a.m., while sitting at a Waffle House counter with my buddy. He was dozing in his seat. No, we weren't up early because we couldn't wait to start the day's kaizen.