Quels sont les différents styles de leadership?
How do various leadership styles perform? How does somebody develop a style of leadership? There are a number of leadership types that have been observed and studied, as you certainly know. Authorities and experts have several common systems for classifying these different styles.
Leadership Styles: Most Common Styles
Leadership Styles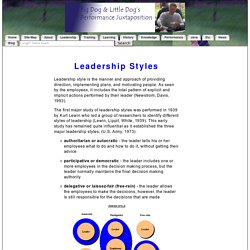 Leadership style is the manner and approach of providing direction, implementing plans, and motivating people. As seen by the employees, it includes the total pattern of explicit and implicit action of their leaders (Newstrom, Davis, 1993). In 1939 Kurt Lewin led a group of researchers to identify different styles of leadership (Lewin, LIippit, White, 1939). This early study has been very influential and established three major leadership styles: (U.S. Army, 1973):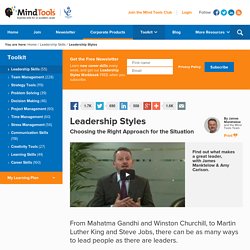 Choosing the Right Approach for the Situation Situational Leadership® is a registered trademark of the Center for Leadership Studies. Find out what makes a great leader, with James Manktelow & Amy Carlson.
Leadership Styles - Leadership Training from MindTools
028935ar.pdf (application/pdf Object)
6_257-275.pdf (application/pdf Object)
index
817881.pdf (application/pdf Object)
GENRE ET LEADERSHIP.pdf (application/pdf Object)