Quels sont les différents styles de leadership?
How do various leadership styles perform? How does somebody develop a style of leadership? There are a number of leadership types that have been observed and studied, as you certainly know. Authorities and experts have several common systems for classifying these different styles.
Leadership Styles: Most Common Styles
Leadership Styles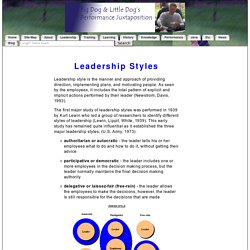 Leadership style is the manner and approach of providing direction, implementing plans, and motivating people.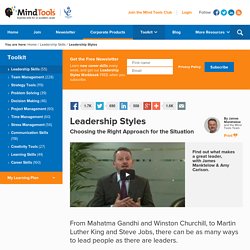 Choosing the Right Approach for the Situation Situational Leadership® is a registered trademark of the Center for Leadership Studies. Find out what makes a great leader, with James Manktelow & Amy Carlson.
Leadership Styles - Leadership Training from MindTools
028935ar.pdf (application/pdf Object)
6_257-275.pdf (application/pdf Object)
index
817881.pdf (application/pdf Object)
GENRE ET LEADERSHIP.pdf (application/pdf Object)