Leadership-training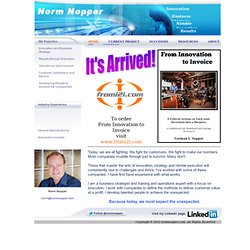 Today, we are all fighting. We fight for customers. We fight to make our numbers.
Norm Nopper
Leadership In FastTime: A Proven Formula for the #1 Leadership Challenge - Excellence in Execution
Tom McCarthy Leadership and Peak Performance Training, Events & Resources
Most training companies measure success in class evaluation scores. We measure success when you improve execution. Our business Planning Workshop provides your team with the foundation of Flawless Execution℠. This is not an academic classroom discussion on business planning. Your team is not going to learn ABOUT planning - your team will actually plan during an Afterburner team building exercise!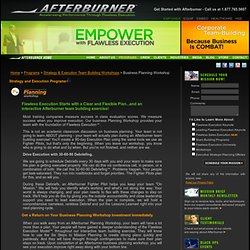 Afterburner Business Planning Workshop & Team Building Exercise
BigFish Interactive - Teambuilding and Leadership Training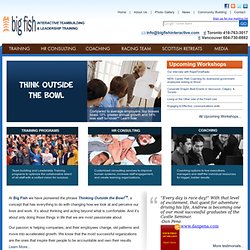 At Big Fish we have pioneered the phrase Thinking Outside the BowlTM, a concept that has everything to do with changing how we look at and perceive our lives and work. It's about thinking and acting beyond what is comfortable. And it's about only doing those things in life that we are most passionate about. Our passion is helping companies, and their employees change, old patterns and move into accelerated growth. We know that the most successful organizations are the ones that inspire their people to be accountable and own their results. Learn More…
March 4, 2014 Senthiyl S S G, Managing Director, Arbinger Southeast Asia The Arbinger Institute Do you ever find it difficult to listen to others without imposing your own agenda? It seems that most of us struggle to listen to others without trying to change the other person's views to align with our own. Can this kind… Read More February 12, 2014
Welcome - Arbinger Institute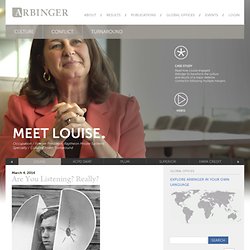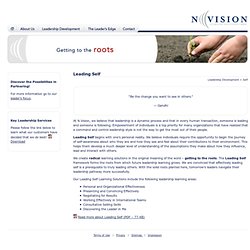 Leadership Development > Self "Be the change you want to see in others." — Gandhi At N Vision, we believe that leadership is a dynamic process and that in every human transaction, someone is leading and someone is following.
N Vision Learning Solutions - Leading Self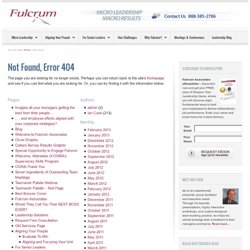 Fulcrum Associates | Leadership Development and Teambuilding | About Fulcrum
Fulcrum Associates is a leadership development firm that helps organizations improve performance by expanding the impact of their managers and their teams on the results that employees deliver. Through highly interactive workshops, one-on-one coaching, keynote presentations and facilitation services, we help managers become better leaders, foster commitment and accountability in their staff, and generate consistently high performance. 1711 Pine Valley Drive
Matt and Buzz - Business
Leadership DynamiX – Executive Coaching, Workshops and Forum