Interest Groups
About | Sustainability Consortium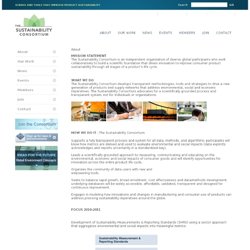 MISSION STATEMENT The Sustainability Consortium is an independent organization of diverse global participants who work collaboratively to build a scientific foundation that drives innovation to improve consumer product sustainability through all stages of a product's life cycle. WHAT WE DO The Sustainability Consortium develops transparent methodologies, tools and strategies to drive a new generation of products and supply networks that address environmental, social and economic imperatives. The Sustainability Consortium advocates for a scientifically grounded process and transparent system, not for individuals or organizations.
UKGBC
SBIC
The Sustainable Buildings Industry Council (SBIC) focuses on achieving high-performance buildings through the efficient use of energy and resources. SBIC works to unite and inspire the building industry toward higher performance—through education, outreach, advocacy and the mutual exchange of ideas—and to dramatically improve the long-term performance and value of buildings by advancing a whole building approach to design, construction and operation. In addition to promoting sustainable design and construction strategies, the Council maintains an overarching philosophy that sustainability, while an essential element of a building's performance, cannot stand alone.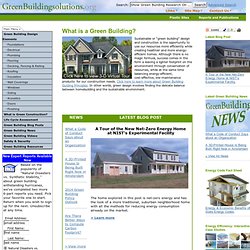 Green Building Solutions
Sustainable or "green building" design and construction is the opportunity to use our resources more efficiently while creating healthier and more energy-efficient homes. Although there is no magic formula, success comes in the form a leaving a lighter footprint on the environment through conservation of resources, while at the same time balancing energy-efficient, cost-effective, low-maintenance products for our construction needs. Click here to learn more about Green Building Guiding Principles . In other words, green design involves finding the delicate balance between homebuilding and the sustainable environment.
Center for Sustainable Building Research - College of Design - University of Minnesota
Partnership for Advancing Technology in Housing - PATHnet
Sustainable Sites Initiative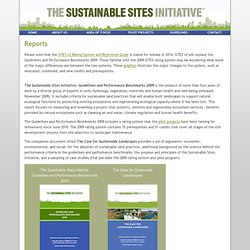 The Sustainable Sites Initiative: Guidelines and Performance Benchmarks 2009 is the product of more than four years of work by a diverse group of experts in soils, hydrology, vegetation, materials and human health and well-being. It is expanded and updated from the Guidelines and Performance Benchmarks –Draft 2008 , which was released in November 2008. The Initiative developed criteria for sustainable land practices that will enable built landscapes to support natural ecological functions by protecting existing ecosystems and regenerating ecological capacity where it has been lost.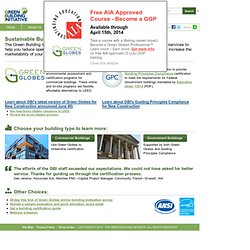 Green Building Initiative - The GBI is the US Licensee of Green Globes
The Green Building Initiative (GBI) provides sustainability assessment and certification services to help you reduce operational costs, qualify for tax incentives, meet federal mandates, or increase the marketability of your buildings. Choose your building type to learn more: The efforts of the GBI staff exceeded our expectations. We could not have asked for better service. Thanks for guiding us through the certification process.