Wiki Haiti
Wikiproject Haiti openstreetmap. Brain Off HaitiStrategy and Proposal : Who, what, where, and how are all open questions.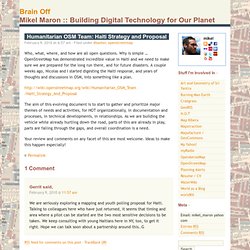 Why is simple … OpenStreetMap has demonstrated incredible value in Haiti and we need to make sure we are prepared for the long run there, and for future disasters. A couple weeks ago, Nicolas and I started digesting the Haiti response, and years of thoughts and discussions in OSM, into something like a plan. The aim of this evolving document is to start to gather and prioritize major themes of needs and activities, for HOT organizationally, in documentation and processes, in technical developments, in relationships.
As we are building the vehicle while already hurtling down the road, parts of this are already in play, parts are falling through the gaps, and overall coordination is a need. Team/Haiti Strategy And Proposal. OpenStreetMap has become an essential mapping resource for the response in the Haiti earthquake.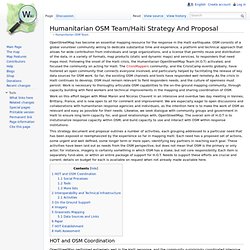 OSM consists of a global volunteer community willing to dedicate substantial time and experience, a platform and technical approach that allows for wide contribution from individuals and large organizations, and a license that permits reuse and distribution of the data, in a variety of formats, map products (static and dynamic maps) and services, to responders that need maps most. Following the onset of the Haiti crisis, the Humanitarian OpenStreetMap Team (H.O.T) activated, and focused the community on acting for Haiti. The CrisisMappers community, and the CrisisCamp events globally, have fostered an open community that connects everyone involved, and particularly helped by facilitating the release of key data sources for OSM work. WikiProject Haiti/Press info - OpenStreetMap. Press release from the OpenStreetMap Foundation • 24th January 2010 Haiti OpenStreetMap Press Release This is just a first draft for a page that informs members of the press as well as other media about the ongoing efforts in mapping haiti.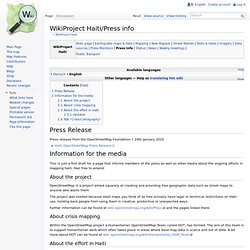 Damage as dynamic layers Updated hourly. Timeline animation Haiti OpenStreetMap e... Timeline animation Haiti island OSM evolution. Timeline animation Haiti POP OSM evolution. Ecmarsden animation OSM Haiti map. Minutely updating damage+ OpenRoute service haiti. Pascal Neis (pascal_n) OSM RoutingHaiti with and without "Only use PASSABLE Roads!... Post Quake map openlayers. Live Changesets within Haiti. Live OpenStreetMap Extracts for Haiti. Files are generated hourly.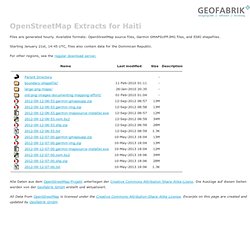 Available formats: OpenStreetMap source files, Garmin GMAPSUPP.IMG files, and ESRI shapefiles. Starting January 21st, 14:45 UTC, files also contain data for the Dominican Republic. For other regions, see the regular download server. Alle Daten aus dem OpenStreetMap-Projekt unterliegen der Creative Commons Attribution Share-Alike-Lizenz. Die Auszüge auf diesen Seiten werden von der Geofabrik GmbH erstellt und aktualisiert. OSM as WFS over Haiti. (updated Jan 27) Volunteers from CubeWerx and The Carbon Project have deployed OpenStreetMap (OSM) data into Web Feature Services (WFS) as part of an open information network for Haiti and the Dominican Republic.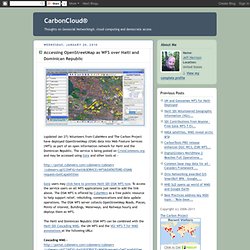 The service is being posted on CrisisCommons.org and may be accessed using Gaia and other tools at - Gaia users may click here to preview Haiti SDI OSM WFS now. To access the service users on all WFS applications just need to add the link above. OSM2008 Vimeo.
TV blog responses to OSM Haiti
OSM Project Haiti. Beginners guide. This Beginners' guide will show you how to add data to OpenStreetMap.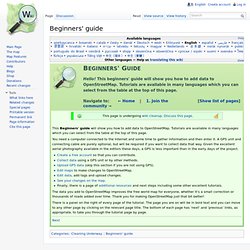 Tutorials are available in many languages which you can select from the table at the top of this page. You need a computer connected to the Internet and some time to gather information and then enter it. A GPS unit and connecting cable are purely optional, but will be required if you want to collect data that way. Given the excellent aerial photography available in the editors these days, a GPS is less important than in the early days of the project. Create a free account so that you can contribute. iMapHaiti. Tasks and Ideas - OpenStreetMap. WikiProject revisions: Revisions to front page of WikiProject completed = everything consolidated into a single table or moved to different pages.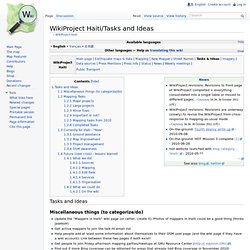 --Ceyockey 16:34, 30 October 2011 (UTC) WikiProject revisions: Revisions are underway (slowly) to revise the WikiProject from crisis-response to mapping-as-usual mode. --Ceyockey 16:34, 30 October 2011 (UTC) On-the-ground: Fourth deploy write-up - 2010-09-08 On-the-ground: HOT Mission 3 complete [1] - 2010-06-28 Hot website launched with blog category 'Haiti' - 2010-05-?? Tasks and Ideas Miscellaneous things (to categorize/do) Update the "Mappers in Haiti" wiki page (or rather, create it). Any @openstreetmap folks interested to work in Hai... Humanitarian OSM Team Deploying to Haiti : This weekend, Nicolas Chavent and Robert Soden will deploy to Haiti for the Humanitarian OpenStreetMap Team.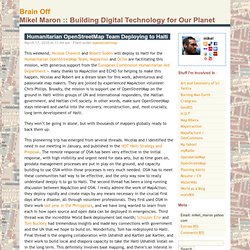 MapAction and OCHA are facilitating this mission, with generous support from the European Commission Humanitarian Aid Department — many thanks to MapAction and ECHO for helping to make this happen. Nicolas and Robert are a dream team for this work, adventurous and passionate map makers. They are joined by experienced MapAction volunteer Chris Philips. Broadly, the mission is to support use of OpenStreetMap on the ground in Haiti within groups of UN and international responders, the Haitian government, and Haitian civil society.
In other words, make sure OpenStreetMap stays relevant and useful into the recovery, reconstruction, and, most crucially, long term development of Haiti. Robert Soden (rsoden) Nicolas Chavent's Page - Crisis Mappers Net. Tom MacWright. Twitter.com/tmcw + github.com/tmcw Tom specializes in building interactive and creative open source mapping tools for Development Seed.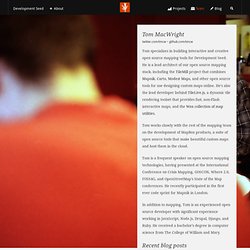 He is a lead architect of our open source mapping stack, including the TileMill project that combines Mapnik, Carto, Modest Maps, and other open source tools for use designing custom maps online. He's also the lead developer behind TileLive.js, a dynamic tile rendering toolset that provides fast, non-Flash interactive maps, and the Wax collection of map utilities. Tom works closely with the rest of the mapping team on the development of MapBox products, a suite of open source tools that make beautiful custom maps and host them in the cloud. Tom is a frequent speaker on open source mapping technologies, having presented at the International Conference on Crisis Mapping, GOSCON, Where 2.0, FOSS4G, and OpenStreetMap's State of the Map conferences.
AJ Ashton. Development Seed AJ Ashton twitter.com/aj_ashton + github.com/ajashton.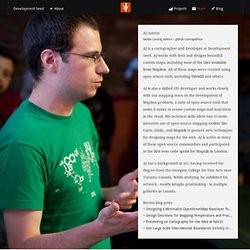 Headed to Haiti to Conduct Training and Outreach on OpenStreetMa.
---