Ushahidi CrisisMappers
Ushahidi. Ushahidi Haiti. Taking the Lead: Ushahidi-Haiti @ Tufts. The outstanding volunteer team at Tufts University has played an instrumental role in Ushahidi's response to Haiti.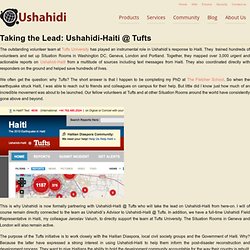 They trained hundreds of volunteers and set up Situation Rooms in Washington DC, Geneva, London and Portland. Together, they mapped over 3,000 urgent and actionable reports on Ushahidi-Haiti from a multitude of sources including text messages from Haiti. They also coordinated directly with responders on the ground and helped save hundreds of lives. We often get the question: why Tufts? The short answer is that I happen to be completing my PhD at The Fletcher School.
Mission 4636. Feeding Amazon's Cloud of Workers with Virtual Peas - ReadWriteC. Crowdsourcing may be stretching the geo-political landscape much the same way that cloud computing is redefining the data center.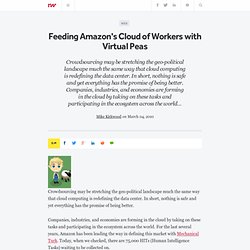 In short, nothing is safe and yet everything has the promise of being better. Companies, industries, and economies are forming in the cloud by taking on these tasks and participating in the ecosystem across the world. For the last several years, Amazon has been leading the way in defining this market with Mechanical Turk. YOURTripsVideosPhotos SpotsGroupsMaps. DT: #cchaiti invitation for thoughtexp: Mobi #cchaiti invitation for a thoughtexp:
---