OpenStreetMap
OpenStreetMap. OSM Human- itarian Team. The mapkibera project (mapkibera.org) is training local people of Kibera, Nairobi to create and own their map with OpenStreetMap OpenStreetMap being used by search & rescue teams after the Haiti earthquake.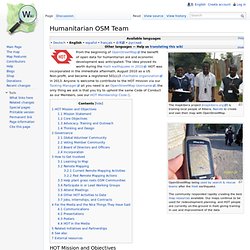 The community responded rapidly creating the best map resources available. Our maps continue to be used for redevelopment planning, and HOT people are currently on-the-ground in Haiti giving training in use and improvement of the data From the beginning of OpenStreetMap the benefit of open data for humanitarian aid and economic development was anticipated. Humanitarian OSM (hotosm) h4ck3rm1k3/openstreetmap. Openstreetmap Twitter List by Artem Dudarev on Listorious.
GEOFABRIK // Home. Harry Wood developing world on OpenSte. The following is a set of questions which Bhaveen Dattani put to me, as part of his studies of VGI and OpenStreetMap for his course at Aston university.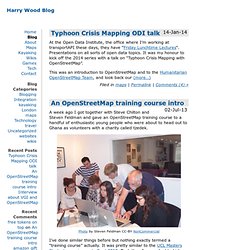 The basic questions are the always the big questions, and I had to take a step back and think a bit about all the broad issues around OpenStreetMap (my big hobby). In the spirit of openness I'm sharing these answers here: What is Volunteered Geographic Information (VGI)? LBSreliefLab. YOURTripsVideosPhotos SpotsGroupsMaps. Help. Map Kibera. @ajturner @ortelius #openstreetmap. Sign up | Login Welcome Map Feed Details Download Help About Blog name @ajturner @ortelius #openstreetmap.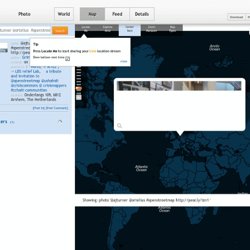 @nick_b @pascal_n @Juhac @jokru. Bliin LBS relief Lab group.
---