OpenStreetMap
The mapkibera project ( mapkibera.org ) is training local people of Kibera, Nairobi to create and own their map with OpenStreetMap OpenStreetMap being used by search & rescue teams after the Haiti earthquake. The community responded rapidly creating the best map resources available. Our maps continue to be used for redevelopment planning, and H.O.T. people are currently on-the-ground in Haiti giving training in use and improvement of the data The Humanitarian OpenStreetMap Team (H.O.T.) ( hot.openstreetmap.org ) coordinates the creation, production and distribution of free mapping resources to support humanitarian relief efforts in many places around the world.
OSM Human- itarian Team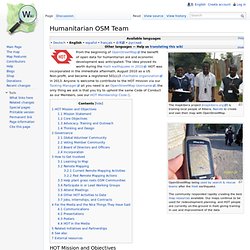 EUROSHA is a European Union pilot project that wants to build up a European Open-Source Humanitarian Aid corps of volunteers to address humanitarian issues and specifically ensure inclusive humanitarian information-sharing in crisis preparedness. Volunteers are young people aged under 26 who will be trained in September-October then deployed for 6 months from mid-October as part of a 'country team' of four to five European citizen volunteers and of two national volunteers. They will...
HOT :: Humanitarian OpenStreetMap Team
Humanitarian OSM (hotosm) on Twitter
h4ck3rm1k3/openstreetmap
Openstreetmap Twitter List by Artem Dudarev on Listorious
GEOFABRIK // Home
I've decided to give up Twitter and IRC for 40 days and 40 nights. This is quite a big deal for me. It remains to be seen how well it works, but I've survived the first couple of days. @harry_wood has gone quiet!
Harry Wood developing world on OpenSte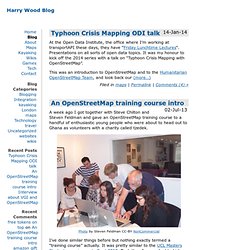 YOURTripsVideosPhotos SpotsGroupsMaps
Map Kibera
Sign up | Login Welcome Map Feed Details Download Help About Blog name @ajturner @ortelius #openstreetmap http://pear.ly/izN1
@ajturner @ortelius #openstreetmap http://pear.ly/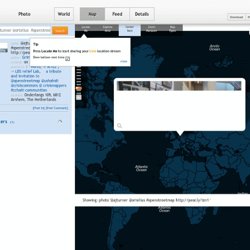 @nick_b @pascal_n @Juhac @jokru
bliin LBS relief Lab group