MediaCoverage
social media gives victim a voice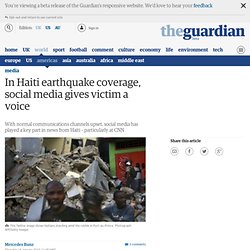 This Twitter image shows Haitians standing amid the rubble in Port-au-Prince. Photograph: AFP/Getty Images With many of the official lines of communication down, user-generated content played an important role yesterday in spreading news about the Haiti earthquake. Social media partly made up for the lack of information from the affected area on what had happened and what was most needed. Twitterfeeds gave an impressive picture of the ongoing earthquake, and the Guardian's live blog on the rescue mission used social media as well as information from other news organisations.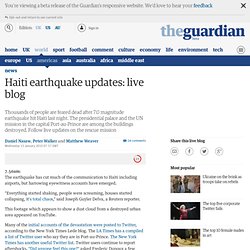 7.50am: The earthquake has cut much of the communication to Haiti including airports, but harrowing eyewitness accounts have emerged. "Everything started shaking, people were screaming, houses started collapsing, it's total chaos," said Joseph Guyler Delva, a Reuters reporter. This footage which appears to show a dust cloud from a destroyed urban area appeared on YouTube. Many of the initial accounts of the devastation were posted to Twitter, according to the New York Times Lede blog. The LA Times has a compiled a list of Twitter user who say they are in Port-au-Prince.
live blog Guardian
Edpilkington (Edpilkington) on Twitter
will be leaving
MapRefugees leave Port au Prince
Davos2010: ClintonAppeal
Former US President Bill Clinton has made a renewed appeal for aid at a special session on Haiti at the World Economic Forum in Davos, Switzerland. Mr Clinton started by praising the people of Haiti who he said had behaved "magnificently" in the aftermath of the devastating earthquake. He then called for more aid and pick-up trucks to help with distribution saying: "If anyone knows where I can get some trucks, I need 100 yesterday".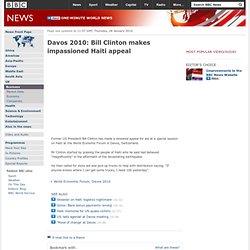 Pierre Côté (pierrecote) on Twitter
Pierre Cote (pierrecote) on Qik
Reporters Sans Frontières
Pierre Côté: Reporters Without Borders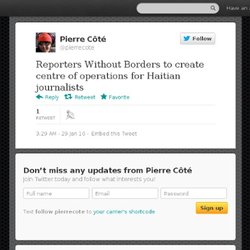 Language: English Bahasa Indonesia Bahasa Melayu Dansk
Reporters Sans Frontières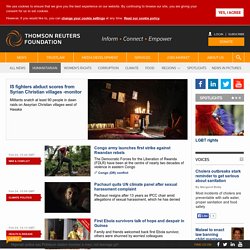 On asylum and refugees, it's time to open a new conversation... By Russell Hargrave Think small to light up rural Africa By Henrietta Miers Last week, Malawi's president declared: "Let there be light in every home."
Clinton to FBN: "We're Setting up a 'Haiti Desk' Here" « L
Haiti quake TwitterPict ures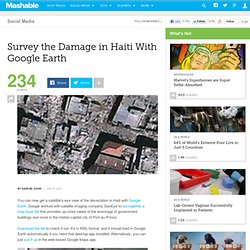 Survey the Damage in Haiti With Google Earth
You can now get a satellite's-eye view of the devastation in Haiti with Google Earth. Google worked with satellite imaging company GeoEye to put together a map layer file that provides up-close views of the wreckage of government buildings and more in the Haitian capital city of Port-au-Prince. Download the file to check it out. It's in KML format, and it should load in Google Earth automatically if you have that desktop app installed.
WSJ 3Maps Interactive Haiti
USATODAY IntrctiveMap
ESAsatellite map Haiti earthquake
NewSatellite maps of Haiti coming in
USAtoday interactiMap
SMSdonations % Map USA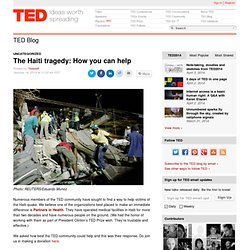 Photo: REUTERS/Eduardo Munoz Numerous members of the TED community have sought to find a way to help victims of the Haiti quake. We believe one of the organizations best placed to make an immediate difference is Partners in Health. They have operated medical facilities in Haiti for more than two decades and have numerous people on the ground.
TED: How you can help
TED Ushahidi aggregates disseminates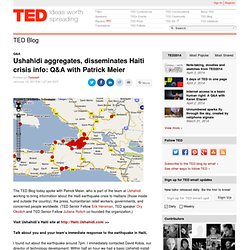 The TED Blog today spoke with Patrick Meier, who is part of the team at Ushahidi working to bring information about the Haiti earthquake crisis to Haitians (those inside and outside the country), the press, humanitarian relief workers, governments, and concerned people worldwide. (TED Senior Fellow Erik Hersman, TED speaker Ory Okolloh and TED Senior Fellow Juliana Rotich co-founded the organization.) Visit Ushahidi's Haiti site at http://Haiti.Ushahidi.com/ >>
PartnersInHe alth Updates
Partners In Health (PIH_org) on Twitter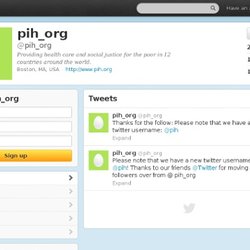 Language: English Bahasa Indonesia Bahasa Melayu Dansk
latimes/Haiti QuakeList
A new wave of panic hit the streets of Haiti this morning as a strong aftershock unleashed even more destruction on the ravaged country. This secondary quake was estimated at 6.1 magnitude , but reports on further damage aren't yet available. According to the U.S. Geological Survey, today's earthquake was centered 26 miles west-northwest of Jacmel. As military personnel are trying to keep order in the streets of Port-au-Prince, the secondary quake raises further concerns of riots and violence breaking out in the Haitian capital. With Twitter currently being flaky, many users have turned to Facebook to point out the news and express their support .
Strong Aftershock Hits Haiti, Facebook Users Pour Out Their Supp