Players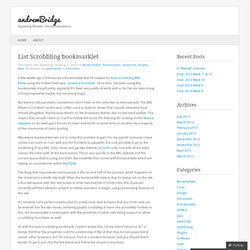 A few weeks ago, I introduced a bookmarklet that I'd created for Auto-scrobbling BBC Radio using the brilliant web app, Universal Scrobbler. Since then, I've been using the bookmarklet myself pretty regularly! It's been very useful at work and so far I've not seen a bug (UI improvements maybe, but not actual bug!).
List Scrobbling bookmarklet « andrewBridge
I've recently got back into the habit of using Last.Fm (again!) and scrobbling whatever I'm listening to, to it. This has been fine for the most part, I use either Spotify or iTunes to listen to my music and both of these having scrobbling features, I also occasionally listen to Last.FM radio, which of course has scrobbling as part of it. The last thing that I couldn't work out, was scrobbling the music played on the radio. I'm a big fan of BBC 6Music, it's a brilliant station, great for when you're at work and you really shouldn't be mucking about with choosing music too much and there's rarely a track that I'm embarrassed to say I've listened to.
Auto-Scrobbling bookmarklet « andrewBridge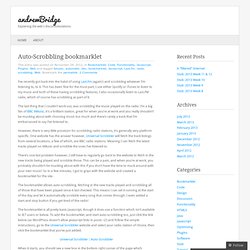 Stream MP3s from Bandcamp and Scrobble to Last.fm on Bandcamp Scrobbler
Sites that scrobble to Last.fm – Group at Last.fm
Discover – Last.fm
tunebox tv - last.fm youtube scrobbler
WOW superpowerful Youtube Last.fm mockup! by per_automatik Dec 15
Last.fm + Youtube = LastVJ