Players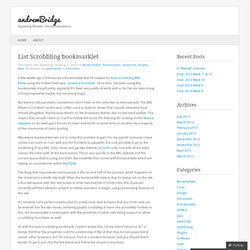 A few weeks ago, I introduced a bookmarklet that I'd created for Auto-scrobbling BBC Radio using the brilliant web app, Universal Scrobbler. Since then, I've been using the bookmarklet myself pretty regularly! It's been very useful at work and so far I've not seen a bug (UI improvements maybe, but not actual bug!).
List Scrobbling bookmarklet « andrewBridge
I've recently got back into the habit of using Last.Fm (again!) and scrobbling whatever I'm listening to, to it. This has been fine for the most part, I use either Spotify or iTunes to listen to my music and both of these having scrobbling features, I also occasionally listen to Last.FM radio, which of course has scrobbling as part of it. The last thing that I couldn't work out, was scrobbling the music played on the radio. I'm a big fan of BBC 6Music, it's a brilliant station, great for when you're at work and you really shouldn't be mucking about with choosing music too much and there's rarely a track that I'm embarrassed to say I've listened to.
Auto-Scrobbling bookmarklet « andrewBridge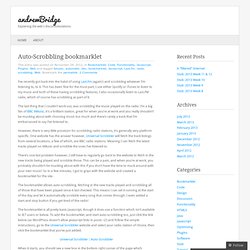 Stream MP3s from Bandcamp and Scrobble to Last.fm on Bandcamp Scrobbler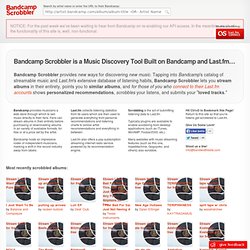 Bandcamp Scrobbler provides new ways for discovering new music. Tapping into Bandcamp's catalog of streamable music and Last.fm's extensive database of listening habits, Bandcamp Scrobbler lets you stream albums in their entirety, points you to similar albums, and for those of you who connect to their Last.fm accounts shows personalized recommendations, scrobbles your listens, and submits your "loved tracks." Bandcamp provides musicians a web store through which to sell music directly to their fans. Fans can stream albums in their entirety before purchasing or downloading albums in an variety of available formats, for free or at a price set by the artist. Bandcamp hosts an impressive roster of independent musicians, marking a shift in the record industry away from labels.
Sites that scrobble to Last.fm – Group at Last.fm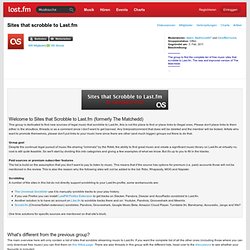 On-demand (scrobbles native) 22tracks 22tracks.com is all about curating. It's a jukebox consisting of 22 playlists of different genres. Each playlist is filled with 22 tracks selected by specialized DJ's from Amsterdam and Brussels. In this way 22tracks quickly overviews the latest music, promotes new artists and lets you discover new genres.
Tags. Click on a style of music you want to explore, or use the search box to find specific tags. When you've found a tag you like, press play.
Discover – Last.fm
Last.fm + Youtube = LastVJ