Landing Pages Facebook
Quelles sont les Pages Facebook Ayant Le Plus Fort Taux D'engagement En France ? – Aout 2011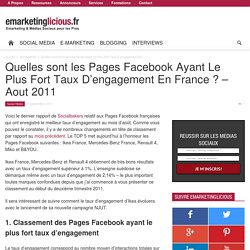 Bonjour! Si vous visitez Emarketinglicious pour la 1ère fois, abonnez-vous à notre flux RSS pour recevoir nos dernières actualités. Voici le dernier rapport de Socialbakers relatif aux Pages Facebook françaises qui ont enregistré le meilleur taux d'engagement au mois d'août.
Tarifs Abonnement PRO | Socialshaker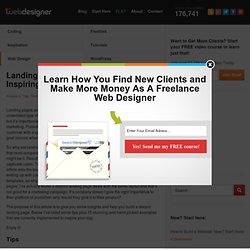 Landing pages are probably the most underrated type of web page out there but it's importance is crucial in online marketing. Purpose? Present the customer with a specific and direct promotion or offer in order to achieve a conversion goal (occurs when a customer completes an offer/purpose) of a business campaign.
Landing Page: Tips, Tools and Inspiring Examples
C'est avec plaisir que je vous présente un nouveau tutoriel vidéo qui a pour objectif de vous montrer comment introduire une Fan Gate sur une landing page Facebook afin de permettre l'affichage d'une vue différente en fonction que vous soyez ou pas un fan. Il s'agit à mon avis d'un des meilleurs formats pour une landing page Facebook efficace à savoir l'offre d'un contenu exclusif à vos fans s'ils deviennent membres de votre communauté. Le tutoriel se déroule en 4 étapes :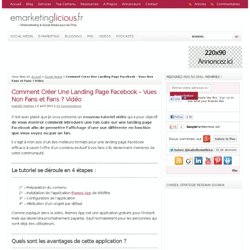 Gain Facebook Fans With Integrated Marketing Campaigns