Poetry
Magnetic Poetry : Play with the Kids Magnetic Poetry Kit
Found Poems/Parallel Poems
ReadWriteThink couldn't publish all of this great content without literacy experts to write and review for us.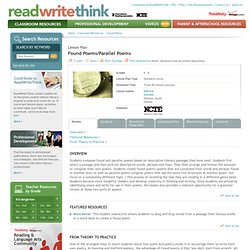 This is a tooltip bead bubble
18 Great Poetry Websites
Posted: April 22, 2010 by Jacqui Murray in fifth grade , fourth grade , free tech resources , homeschool , language arts , lesson plans , teacher resources Tags: acrostic , cinquain , fifth grade , fourth grade , integrate technology , poetry , third grade My fourth grade students are working on poetry for a few weeks and I have discovered some truly wonderful, fun-filled websites. Here's my list, each one tested and approved by 75 fourth graders.