Korea
Международен маркетинг план от Ани Nam на Prezi
Systems
Systems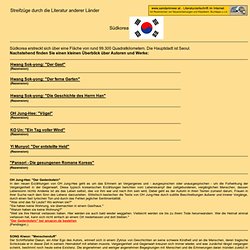 Südkorea erstreckt sich über eine Fläche von rund 99.300 Quadratkilometern. Die Hauptstadt ist Seoul. Nachstehend finden Sie einen kleinen Überblick über Autoren und Werke: "Pansori - Die gesungenen Romane Koreas" (Rezension)
Die virtuelle Literaturzeitschrift
Learn Korean - Free Online Korean Lessons and Education on Korean Culture
Welcome to the website of the Ministry of Culture, Sports and Tourism of the Republic of Korea.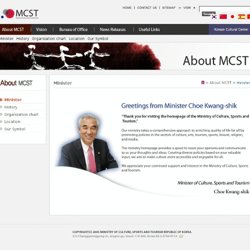 For a 'life of culture', the Ministry of Culture, Sports & Tourism pursues policies in such fields as culture, art, sports, tourism, religion, media and promotional advertising. Visit us here anytime you want to know what the Ministry is doing, or if you just want to speak your mind. We believe communication with people from different walks of life is the best way to establish policy coherence and help us all lead happier lives. Cultural policy is crucial to seeing our creative economy into the future and bringing greater satisfaction to our communities. We invite you to be a part of this every step of the way.
Korean Language Online Exercises
International
Meet-Korea - Deutsch-Koreanisches Forum - Korea-Forum - 독일-한국 포럼
Wireless Microphone System, Rechargeable Wireless Microphone, SCA Radio, USB Internet Radio
Homestaykorea
Stories: Korea Beat
Well, it's just as the headline says. Being a part of Asian Correspondent has been great, as the people are great and Korea Beat has spent more time here than anywhere else, but the time has come to part ways. Fairly soon, I'll move back to koreabeat.com, start trying some new approaches to blogging that I've been mulling, and work on building a new project that I'm quite excited about.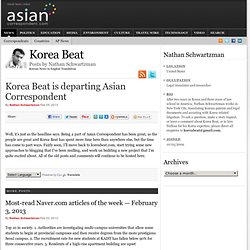 HiKorea Portal
Koreanische : Der offizielle Reiseführer Koreas
RKI - Radio Korea International
Korean through English
KOSNET
:: Sogang University
▒ Botschaft der Republik Korea in der Bundesrepublik Deutschland ▒
Deutsch-Koreanische Gesellschaft e.V. | 독한협회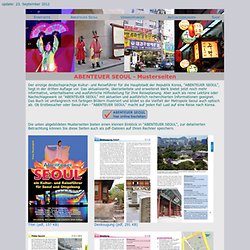 "ABENTEUER SEOUL" ist seit vielen Jahren der erste Reiseführer in deutscher Sprache der aktuell über die südkoreanische Hauptstadt berichtet. Im Format 14cm x 20,5cm werden auf 320 Seiten über 290 touristische Ziele detailliert beschrieben. Das Buch ist durchgehend vierfarbig gestaltet und bietet mit über 450 Fotos auch einen optischen Eindruck von der Vielfalt, Exotik, Lebensfreude und Schönheit dieser Metropole. Vierzehn detaillierte Stadtteilkarten führen zu den wichtigsten Zielen mit genauer Lage der Sehenswürdigkeiten, Museen, Restaurants und bieten Vorschläge für Tagestouren.
Seoul - Musterseiten aus "ABENTEUER SEOUL"
Language Education Center
Korean Book Services, - Bücher aus Korea - Libros coreanos - Livres en Coreen - Filme - Wörterbücher