Renderers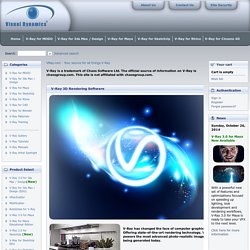 V-Ray 2.0 for SketchUp Now Available Rendering by Nookta V-Ray 2.0 for SketchUp is a massive upgrade to V-Ray for SketchUp which includes a series of new feature introductions that enhance visualization workflow and render quality such as V-Ray RT, V-Ray Dome Light and streamlining scene complexity with V-Ray Proxy. V-Ray Proxy Demo Video V-Ray Proxy – Manages scene memory and efficiently renders large amounts of geometry to increase detail and complexity in scenes. V-Ray Proxy objects are dynamically loaded and unloaded at render time, which saves vital RAM resources.
OpenEXR is a high dynamic-range (HDR) image file format developed by Industrial Light & Magic for use in computer imaging applications. OpenEXR is used by ILM on all motion pictures currently in production. The first movies to employ OpenEXR were Harry Potter and the Sorcerers Stone, Men in Black II, Gangs of New York, and Signs. Since then, OpenEXR has become ILM's main image file format. OpenEXR's features include: Higher dynamic range and color precision than existing 8- and 10-bit image file formats.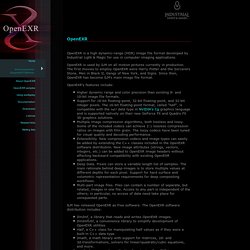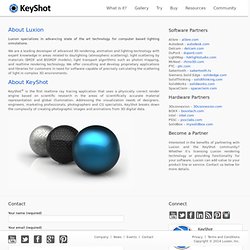 Company - About Luxion
About Luxion Luxion specializes in advancing state of the art technology for computer based lighting simulations. We are a leading developer of advanced 3D rendering, animation and lighting technology with expert knowledge in areas related to daylighting (atmospheric scattering), light scattering by materials (BRDF and BSSRDF models), light transport algorithms such as photon mapping, and realtime rendering technology. We offer consulting and develop proprietary applications and libraries for customers in need for software capable of precisely calculating the scattering of light in complex 3D environments. About KeyShot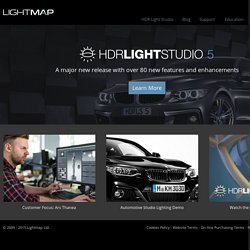 Create + control image based lighting HDR Light Studio - Revolutionize Your Lighting Light your shots placing light and reflections directly onto the 3D view – with a dynamic HDRI map generated on the fly. This revolutionary lighting technique allows 3D artists to light their shots faster and produces stunning final renders.
HDR Light Studio - HDR Software