Architecture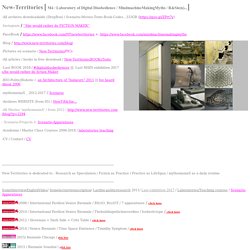 -New-Territories blog / http://www.new-territories.com/blog/ -Twitter / @RSie_n / http://twitter.com/#!/RSie_n -Contest_Fab+Install+Exhibit / FR Curator / January 2012 / -Comput-DIY / INDIA / 25 may-25 June 2012 / -Comput-DIY / Greece / 7 june-27 June 2013 / -Comput-DIY / Thailand / 1-21 July 2014 / -Click on vortex >>> New-Territories is a site dedicated to : Research as Speculation / Fiction as Practice / Practice as LifeSpan LastBook09/ LastInterviewEnglishVideo/ Lastlecturetranscription/ NextLectures&Exhibitions/LastChronicle/ Lastresearch/ Laboratories/Teaching courses / Scenario-Apparatuses
Autodesk Vasari Project & Nucleus project « dkor
The last few days, I visited the Autodesk Labs web site in order to know which projects the company is working on. And it was not a bad idea because I discovered the Vasari project. Vasari is a design tool for creating building concepts with integrated analysis for energy and carbon. As enumerated in the official documentation, with this Autodesk's new tool you are able to :
CGarchitect.com Architectural 3D Awards 2011
The CGarchitect.com Architectural 3D Awards were started in 2004 to recognize outstanding achievement in the field of architectural visualization. In such a competitive field it becomes more and more difficult make yourself seen. With the wide visibility of CGarchitect, what better way to use this exposure than to help the artists that make up our community. 2014 marks our 11th annual awards. Past awards have taken place in Los Angeles, San Diego and Boston. Over the past nine years many extremely talented individuals and companies have gone on to form new alliances and partnerships and advanced their careers.