Koch Bros.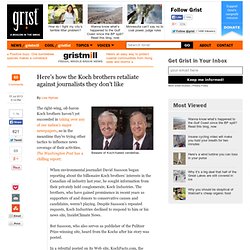 The right-wing, oil-baron Koch brothers haven't yet succeeded in taking over any of our nation's major newspapers , so in the meantime they're trying other tactics to influence news coverage of their activities. The Washington Post has a chilling report : When environmental journalist David Sassoon began reporting about the billionaire Koch brothers' interests in the Canadian oil industry last year, he sought information from their privately held conglomerate, Koch Industries.
Here's how the Koch brothers retaliate against journalists they don't like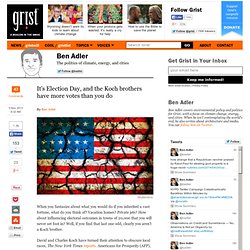 It's Election Day, and the Koch brothers have more votes than you do
When you fantasize about what you would do if you inherited a vast fortune, what do you think of? Vacation homes? Private jets? How about influencing electoral outcomes in towns of 20,000 that you will never set foot in? Well, if you find that last one odd, clearly you aren't a Koch brother. David and Charles Koch have turned their attention to obscure local races, The New York Times reports.
For Immediate Release, October 31, 2013 Contact: Kierán Suckling, (520) 275-5960 Notorious Koch Brothers Win 2013 Rubber Dodo Award TUCSON, Ariz.— The Koch Brothers, an ultra-secret and super-rich duo that shamelessly funnels money to the climate-denier movement and campaigns to ram through the Keystone XL pipeline, are the lucky recipients of the Center for Biological Diversity's 2013 Rubber Dodo Award, given annually to those who have done the most to drive endangered species extinct. Previous winners include climate denier James Inhofe (2012), the U.S.
Notorious Koch Brothers Win 2013 Rubber Dodo Award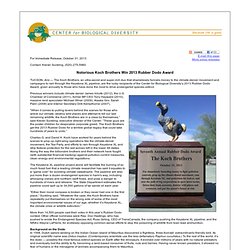 LE MONDE | • Mis à jour le | Philippe Bernard "Ne laissez pas le gouvernement jouer au docteur !" Ce message dénonçant la loi Obama sur l'assurance santé, concluait une vidéo choc qui a fait le buzz sur Internet en septembre. Un Oncle Sam menaçant, figurant l'intrusion de l'Etat, y surgissait entre les jambes d'une femme en plein examen gynécologique. Au même moment, un tweet alarmant – "Obamacare est une catastrophe" – se répandait sur les réseaux sociaux, tandis que des élus en difficulté dans leur circonscription recevaient des avertissements liés à leurs positions sur l'assurance santé.
Les frères Koch, les milliardaires derrière le "shutdown"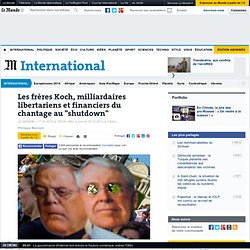 Billionaire Koch Brother Says Eliminating The Minimum Wage Will Help The Poor
A conservative mogul worth $43 billion says he knows the secret to helping poor people. According to Charles Koch, the U.S. needs to get rid of the minimum wage, which he counts as a major obstacle to economic growth. On Wednesday, the Charles Koch Foundation launched a $200,000 media campaign in Wichita, Kansas, with a hint of expanding it elsewhere. It is the Kochs' biggest media buy since they promised to do more to "persuade politicians" after suffering losses in the 2012 election. In an interview with the Wichita Eagle published Tuesday, Koch said that the minimum wage is one policy he is working against: We want to do a better job of raising up the disadvantaged and the poorest in this country, rather than saying 'Oh, we're just fine now.'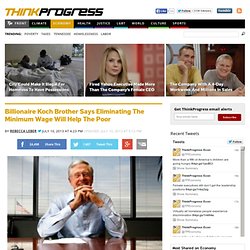 Carbon-tax proposals are going nowhere in Congress , but the Koch brothers aren't taking any chances. A few non-office-holding Republicans and a few actual-office-holding Democrats are calling for a carbon tax, but the current Congress would never pass one, and even the Obama administration has said it doesn't want one. Still, a grandstanding Republican representative, Steve Scalise of Louisiana, is pushing a House resolution declaring that "a carbon tax would be detrimental to the United States economy" and "to American families and businesses," and that it would "fall hardest on the poor, the elderly, and those on fixed incomes." (Never mind that many carbon-tax proposals are designed specifically to ease burdens on low-income Americans .
Koch brothers hire lobbyists to fight carbon tax, save poor and old people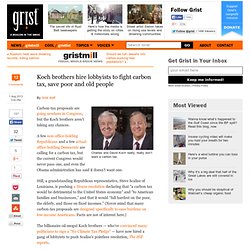 L'intérêt particulier contre l'intérêt général. C'est à cela que ressemble la politique aux États-Unis. Tous les quatre ans, les candidats se fabriquent à coup de millions de dollars, à coup de spots anti ou pro tel candidat. Et contrairement à l'idée reçue, ce ne sont pas les lobbyistes qui courent vers Washington, mais bien les élus locaux qui ont besoin d'argent. Un système terrible où un congressiste moyen doit générer 18 000 dollars par jour.
L'Amérique qui flippe ou l'Amérique qui floppe ? (9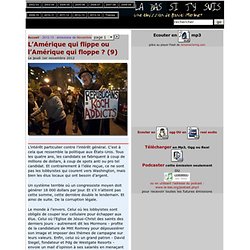 Kochs Team Up With Scott Brown, Mitt Romney To Destroy Democracy
Koch Bros. Feelings Hurt By New Galifianakis Comedy
Newsroom summary on the Koch brothers and AFT.
Koch Funded Pro-Walker Ads Prove the Need For Truth in Advertising Laws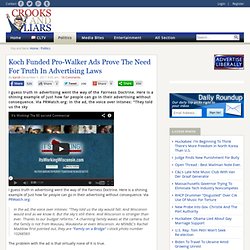 I guess truth in advertising went the way of the Fairness Doctrine. Here is a shining example of just how far people can go in their advertising without consequence.
Koch Bros. Sue For Control Of Cato Institute
Koch Bros. Get Into Local News Business
Ohio governor paid by Koch Brothers to commence Fracking
Adam Curtis Blog: THE CURSE OF TINA
koch industries
Policy Analyst and Research Fellow, Economic Freedom Project Job at Charles Koch Institute
11 4 11 dc protesters hit by car cops let driver go call DCPD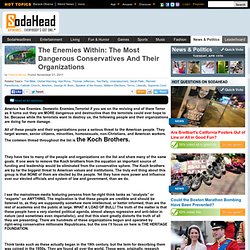 America has Enemies.
The Enemies Within: The Most Dangerous Conservatives And Their Organizations
Outside Groups Eclipsing G.O.P. as Hub of Campaigns
Gretchen Ertl for The New York Times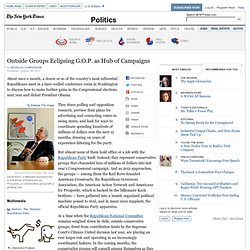 koch industries
By People & Power reporter Bob Abeshouse
The Koch Brothers - People & Power
Madison — Governor-elect Scott Walker reached out to two loyal supporters to lead his transition team and build up an administration that will have to tackle enormous challenges in the coming months. Michael W.
Scott Walker names key figures to his transition team
Toxic Waste Courtesy of Koch Brothers
Koch Industries stands to profit off Keystone XL
Every step the Obama administration takes towards approving the Keystone XL pipeline means a step towards putting more money into the pockets of Koch Industries.
At the Republic Report, Lee Fang details how the Koch Industries petrochemical empire is involved in the boom in natural gas hydrofracturing . The right-wing Koch brothers have developed a vertical empire designed to extract wealth from every point in the hydrocarbon lifecycle.
How The Kochs Are Fracking America
Oct. 18 (Bloomberg) -- Democratic Representative Henry Waxman called on Republicans to investigate Koch Industries Inc.'s denials that it has a financial stake in TransCanada Corp.'s proposed Keystone XL pipeline. Waxman of California, the top Democrat on the House Energy and Commerce Committee, today wrote committee Chairman Fred Upton, a Michigan Republican, and Representative Ed Whitfield of Kentucky, who leads the energy and power subcommittee, renewing a previous request that the panel examine Koch's role.
Waxman Wants Koch Interest in Keystone Pipeline Investigated
Koch, Exxon Mobil Among Corporations Helping Write State Laws
How the Koch brothers screwed over the climate even more than you know
Don't be surprise that the required changes for the ecological transition are so slow... by alwen Jul 3
Koch brothers and beyond: The anti-union agenda of right-wing billionaires
Friendly Smoker™: "RT @AnonCorpWatch: The #Ko
Robert Greenwald: heres vid of my convo w @T
Thom Hartmann & Robert Greenwald - Killer Koch Cancer Connection
Cancer Risks For Koch Profits - Koch Brothers Exposed
The Koch Brothers Explain the Recession
When you talk too much for Twitter
Bloomberg Markets: Koch Industries Sold Petrochemical Equipment To Iran And Bribed Countries For Contracts
Koch Brothers Flout Law Getting Richer With Secret Iran Sales
Charles Koch to Friedrich Hayek: Use Social Security!
Robert Greenwald: To David Koch: Will You Be My Guest in Arkansas?
Koch Industries had inside man at the EPA
Thom Hartmann & Tom Linzey - Fighting back against Citizens United one community at a time
Exclusive Audio: Inside the Koch Brothers' Secret Seminar
NJDC Demands Perry, Others Return "Iran-Tainted" Koch Donations
Center for Equal Opportunity - New Studies Show Severe Racial Discrimination at University of Wisconsin
Slide Show: Got Koch? Seven Products Fueling the Brothers' Right-Wing Agenda
Brendan DeMelle | Koch Brothers Exposed: Cancer Risk In Crossett Arkansas Blamed On Georgia Pacific
German State Minister: We Can Decarbonize With Renewables Because "We Don't Have the … Koch Brothers"
Call for an Investigation of the Koch Brothers
Exclusive: The Koch Brothers' Million-Dollar Donor Club
Koch Brothers Flout Law Getting Richer With Secret Iran Sales
The Koch Method
Koch Brothers and Wall Street buy governors, as well as Supreme Court Justices - Tucson Progressive
Weird Letters Show Kochs Briefly Drank Libtard Juice In Seventies
Fallout From Chris Christie-Koch Brothers Exposé
Alex Jones calls Green activist Nazis, just like the Koch Brothers campaigners « The Climax
This Week's Top MuckReads: Trouble With Koch Subsidiaries and Drug-Smuggling Guards
Bloomberg News Investigation: Koch Industries Bribed Foreign Officials, Sold Petrochemical Equipment To Iran
The Koch Brothers: Very Rich Job Killers
The Koch Brothers' End Game in Wisconsin
David Koch dodges questions over shady deals with Iran
Koch-Funded Congressional Civil Justice Caucus Academy Gives Congress Big Freebies
Don't let the Koch brothers censor public television!
Koch brothers spooked by forthcoming story - War Room
Action Center
What Are the Latest Revelations About Koch Industries?
Business Mag Expose Says Koch Brothers Were Supplying Iran In Possible Violation of U.S. Trade Embargo
Robert Greenwald: terrible #koch hypocrisy-
Nuclear Missiles, Cluster Bombs, Koch Brother-Like Legal Activism and Climate Solutions!? Greenwashing Lockheed Martin | Truthout