Manga
READ FREE MANGA ONLINE
One Manga - The home of manga!
Posted by Yukimura on 01/22/2014 7:17 pm Edit - It seems the Google issues has been resolved and registrations should be working again. Also we're down to less than 5000 files left to reprocess for the viewer!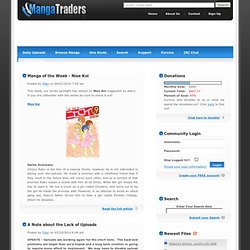 Free Manga Downloads
Manga Fox: Read Manga Online for Free!
Home | Manga-Access.com
Your Reviews, Series, Scanlator and Latest Manga Release Resource
This week's poll is from FormX, who apparently took it from EveTaku... But in any case, of the choices given, which would you rather see the main character of a romance series pursue? Not an exhaustive list and some of the choices sort of overlap, but oh well. Just for fun! You can submit poll ideas here (and try to keep them manga/anime-related)http://www.mangaupdates.com/showtopic.php?