Wacky stuff
The Pirate Queen's Booty Bag
International Talk Like A Pirate Day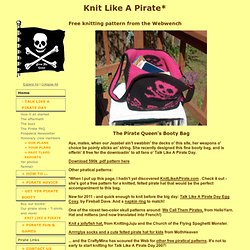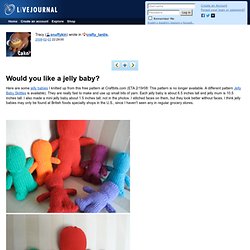 Here are some jelly babies I knitted up from this free pattern at Craftbits.com (ETA 2/19/08: This pattern is no longer available.
crafty_tardis: Would you like a jelly baby?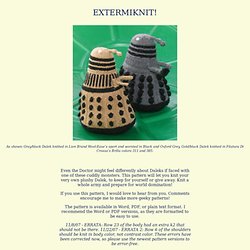 Extermanint! knitted dalek pattern
Even the Doctor might feel differently about Daleks if faced with one of these cuddly monsters.
Tonight in the pantry I was visited by his Pasta-ness Himself: He landed on the counter and waved a Noodly Appendage at me
FSM sighted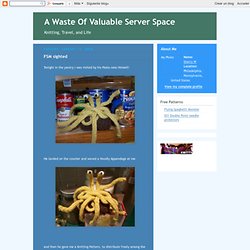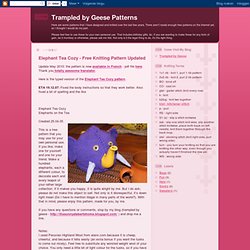 Here is the typed version of the Elephant Tea Cozy pattern . ETA 19.12.07: Fixed the body instructions so that they work better.
Elephant Tea Cozy - Free Knitting Pattern Updated
Elefante Materials: Set of 5 double-pointed needles US size 4 Size E crochet hook Fiber-fill Poly-pellets Yarn needle Scissors Stitch marker Yarn: Cascade 220 in Red, Pink, Orange and Lime Julia by Kristin Nicholas in Dark Blue and Light Blue Small amount of black to embroider eyes **Any worsted weight yarn will do and this is a perfect project to use up your stash. Try not to buy new yarn for this pattern! Make up your own colorway for the stripes.
Page 18 Elefante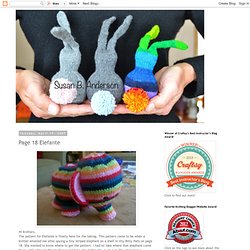 Fall 2007 - Woodins
WOODIN (one skein of yarn will make up to 5) First Foot: Using color A, CO 4 sts. Divide sts between 3 double-point needles and join to begin working in the round, being careful not to twist.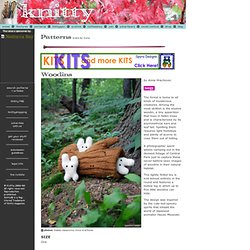 Instructable: Knit dishrags out of old clothes