KlasCement
Edufiks is een project voor rond . Leerlingen van testen de allernieuwste technologieën uit, doen onderzoeken en verzamelen informatie. De ervaringen en onderzoeken worden verder uitgetest door . Zo komen we uiteindelijk tot een mooi overzicht van de mogelijkheden van deze voor het onderwijs.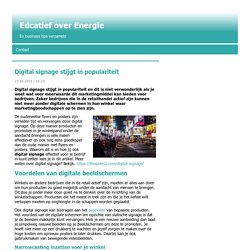 EduFiks
Classy: Gratis webruimte, weblogs en verhuur laptops, vidoecamera's, fototoestellen, ... voor leerkrachten in Vlaanderen
Bij Classy kan je genieten van diverse voordelen als leerkracht in Vlaanderen en lid van de onderwijsportaalsite KlasCement. Registreer je nu en reserveer je gratis webruimte met Joomla, WordPress of Drupal. Enkel voor educatieve doeleinden, onder een persoonlijk subdomein! Webruimte Je krijgt een of meerdere webruimte(s) van 0,5 GB met PHP-ondersteuning gratis. Je kan de webruimte leeg aanvragen of voorzien van WordPress, Joomla of Drupal.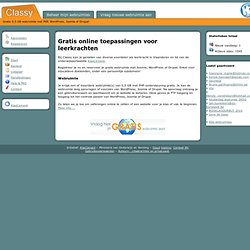 The Learning Resource Exchange (LRE) is an infrastructure managed by European Schoolnet. The LRE Federates systems that provide learning resources, e.g., learning resource repositories, authoring tools. It offers seamless access to these resources by educational systems that enable their use, e.g., educational portals, virtual learning environments (VLEs), interactive whiteboards.
KlasCement.net
KlasCement.nl