Ken Kesey & The Merry Pranksters
- StumbleUpon
Kesey's first novel 'Cuckoo's Nest' turns 50
Ken Kesey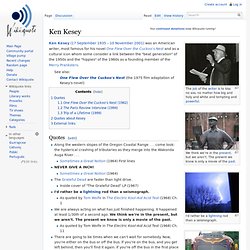 The job of the writer is to kiss no ass, no matter how big and holy and white and tempting and powerful.
Ken Kesey: Oregon's Great Author and Anti-Establishment Hero (1935-2001) By Walt Curtis © 1995 "Dearest Mister Curtis: My mind is so wet it's like a- uh-like-my what? I-forgot..."
Ken Kesey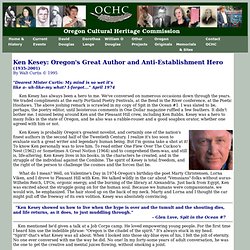 Ken Kesey
IntrepidTrips.com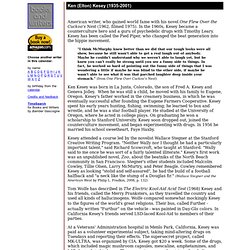 American writer, who gained world fame with his novel One Flew Over the Cuckoo's Nest (1962, filmed 1975). In the 1960s, Kesey became a counterculture hero and a guru of psychedelic drugs with Timothy Leary.
Ken Kesey
Ken Kesey Ken Kesey, the older of two sons, was born on September 17, 1935, in La Junta, Colorado. In 1946 the family moved to Springfield, Oregon, where Kesey spent several years on his family's farm.
Biography of Ken Kesey | List of Works, Study Guides & Essays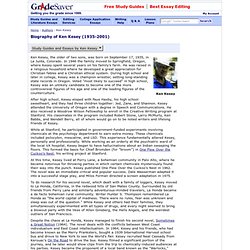 Psychedelic 60s: Ken Kesey & the Merry Pranksters