Ken Kesey & The Merry Pranksters
Beat Generation. Kesey's first novel 'Cuckoo's Nest' turns 50. Ken Kesey. The job of the writer is to kiss no ass, no matter how big and holy and white and tempting and powerful.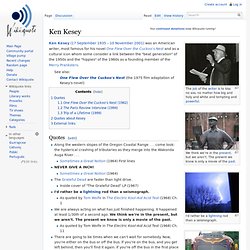 We think we're in the present, but we aren't. The present we know is only a movie of the past. See also: Ken Kesey. Ken Kesey: Oregon's Great Author and Anti-Establishment Hero (1935-2001) By Walt Curtis © 1995 "Dearest Mister Curtis: My mind is so wet it's like a- uh-like-my what?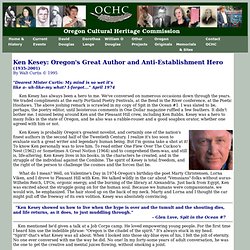 I-forgot... " Ken Kesey. IntrepidTrips.com. Ken Kesey. American writer, who gained world fame with his novel One Flew Over the Cuckoo's Nest (1962, filmed 1975).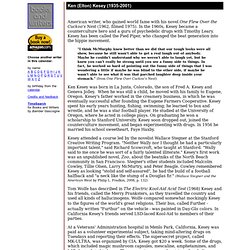 In the 1960s, Kesey became a counterculture hero and a guru of psychedelic drugs with Timothy Leary. Kesey has been called the Pied Piper, who changed the beat generation into the hippie movement. "I think McMurphy knew better than we did that our tough looks were all show, because he still wasn't able to get a real laugh out of anybody.
Maybe he couldn't understand why we weren't able to laugh yet, but he knew you can't really be strong until you see a funny side to things. In fact, he worked so hard of pointing out the funny side of things that I was wondering a little if maybe he was blind to the other side, if maybe he wasn't able to see what it was that parched laughter deep inside your stomach. " Biography of Ken Kesey | List of Works, Study Guides & Essays. Ken Kesey Ken Kesey, the older of two sons, was born on September 17, 1935, in La Junta, Colorado.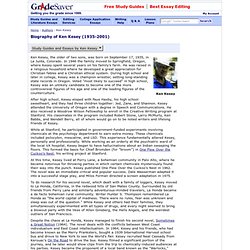 In 1946 the family moved to Springfield, Oregon, where Kesey spent several years on his family's farm. Psychedelic 60s: Ken Kesey & the Merry Pranksters.
---