Karate
Martial Arts Information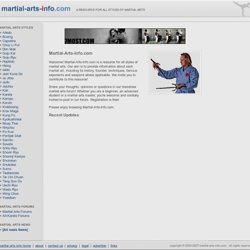 Welcome! Martial-Arts-Info.com is a resource for all styles of martial arts. Our aim is to provide information about each martial art, including its history, founder, techniques, famous exponents and weapons where applicable. We invite you to contribute to this resource! Share your thoughts, opinions or questions in our brandnew martial arts forum! Whether you are a beginner, an advanced student or a martial arts master, you're welcome and cordially invited to post in our forum.
Deutsche Kyokushin Karate Vereinigung
Shotokan Karate-Do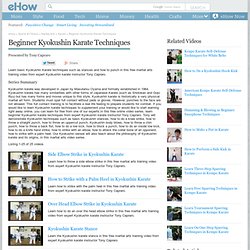 Beginner Kyokushin Karate
Learn basic Kyokushin Karate techniques such as stances and how to punch in this free martial arts training video from expert Kyokushin karate instructor Tony Capraro. Kyokushin karate was developed in Japan by Masutatsu Oyama and formally established in 1964. Kyokushin karate has many similarities with other forms of Japanese Karate (such as Shotokan and Gojo Ryu) but has many forms and moves unique to this style. Kyokushin karate is historically a very physical martial art form. Students must spar full contact without pads or gloves.