Js
An example: Webserver This simple web server written in Node responds with "Hello World" for every request. To run the server, put the code into a file example.js and execute it with the node program from the command line: % node example.js Server running at http://127.0.0.1:1337/ Here is an example of a simple TCP server which listens on port 1337 and echoes whatever you send it:
Thin Server Architecture Working Group Increasing productivity through simplicity Putting the View on the Client (Yes, you have one. It's the browser, silly!) 1) Do not use server-side templating to create the web page 2) Use a classical and simple client-server model, where the client runs in the browser.
Home (Thin Server Architecture)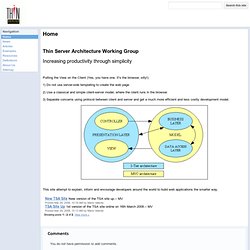 What is jQuery? jQuery is a fast, small, and feature-rich JavaScript library. It makes things like HTML document traversal and manipulation, event handling, animation, and Ajax much simpler with an easy-to-use API that works across a multitude of browsers. With a combination of versatility and extensibility, jQuery has changed the way that millions of people write JavaScript.
Instantly Better Web Apps Dojo saves you time and scales with your development process, using web standards as its platform. It's the toolkit experienced developers turn to for building high quality desktop and mobile web applications. From simple websites to large packaged enterprise applications whether desktop or mobile, Dojo will meet your needs. Internet Explorer 6-9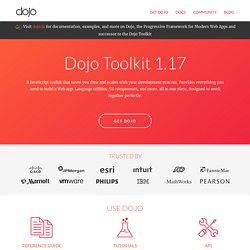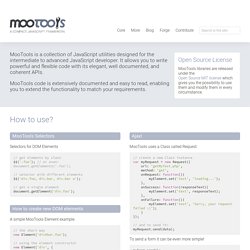 MooTools is a compact, modular, Object-Oriented JavaScript framework designed for the intermediate to advanced JavaScript developer. It allows you to write powerful, flexible, and cross-browser code with its elegant, well documented, and coherent API. MooTools code respects strict standards and doesn't throw any warnings. It's extensively documented and has meaningful variable names: a joy to browse and a snap to understand. Open Source License MooTools is released under the Open Source MIT license, which gives you the possibility to use it and modify it in every circumstance.
Processing.js 1.4.1 released! Processing.js 1.4.0! And then Processing 1.4.1! Because there was a really silly but ruinous regression introduced by 1.4.0! All joking aside, 1.4.1 is a hotfix for 1.4.0, fixing a bug that prevents sketches from focussing on mouse clicks. That's pretty severe, because without the globalKeyEvents instruction, Processing.js sketches only receive key events when they have focus.