Joomla Hosting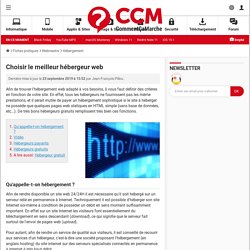 Afin de trouver l'hébergement adapté à vos besoins, il vous faut définir des critères en fonction de votre site. En effet, tous les hébergeurs ne fournissent pas les même prestations, et il serait inutile de payer un hébergement sophistiqué si le site à héberger ne possède que quelques pages web statiques en HTML simple (sans PHP, MySQL, ASP, etc...). De très bons hébergeurs gratuits remplissent très bien ces fonctions. Sommaire Hébergeurs payants Vous trouverez ci-dessous de bons hébergeurs payants (par ordre alphabétique)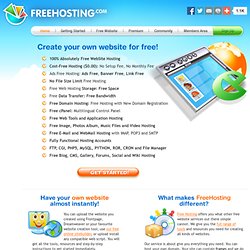 Free Web Hosting - No purchase required.
Choose over 330 ready-to-use personal or business website templates. Choose a template that suits your niche or topic; edit/add pages using ridiculously simple, yet ultra-powerful wizard online software. It's really as simple as that! Install any of 50 most popular blog, forum, calendar, chat, photo gallery, web form, e-commerce, guestbook, bulletin board, support or CMS systems with 1 click. If you're after starting your own blog to share your thoughts — or you want to bring a community together using a forum — then choose (WordPress, Joomla, Drupal, Mambo, phpBB, etc...), click 'Install', and you're done!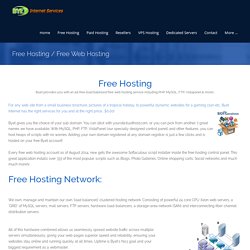 Byet provides you with an ad-free load balanced free hosting service including PHP, MySQL, FTP, Vistapanel & more!. For any web site from a small business brochure, pictures of a tropical holiday, to powerful dynamic websites for a gaming clan etc, Byet Internet has the right services for you and at the right price... $0.00! Byet gives you the choice of your sub domain. You can stick with yoursite.byethost.com, or you can pick from another 7 great names we have available. With MySQL, PHP, FTP, VistaPanel (our specially designed control panel) and other features, you can host heaps of scripts with no worries. Adding your own domain registered at any domain registrar is just a few clicks and is hosted on your free Byet account!
UK Joomla hosting, free PHP hosting, unlimited MySQL databases.
Why 5QuidHost? We don't mess about at 5quidhost. We know how important your website is, and we know how frustrating it is to deal with untrained support monkeys. So we don't have any - just hardcore techies who are ready and willing to do your bidding. Don't take our word for it - there are over 900 genuine, independent, positive reviews of our cPanel hosting service to be found on the Internet at large, with more added on an almost daily basis by happy customers. Joomla hosting is a speciality, but our PHP hosting service is also ideal for WordPress hosting and Magento.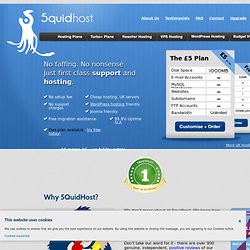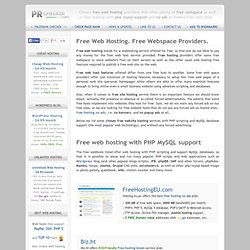 Free Web Hosting. Free Webspace Providers. Free web hosting stands for a webhosting service offered for free, so that one do not have to pay any money for the free web host service provided. Free hosting providers offer some free webspace to store website's files on their servers as well as the other usual web hosting free features required to publish a free web site on the web.
FREE WEB HOSTING - the BEST of the Best free hosts
#1 Green FREE web hosting, Free domain name at .biz.ht & .me.ht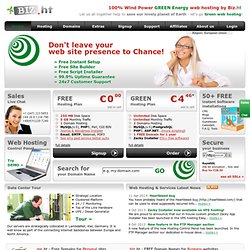 .biz.ht - FREE Domain Names for Business websites Biz.ht Hosting domain name free offer is valid for yearly web hosting, and the number of free sub-domains of .biz.ht (3rd level domain names) provided depends on the free web hosting or paid hosting plan chosen, owners of business sites are proposed to use .biz.ht extension, e.g.
Free, 100 MB website hosting with POP3 access
Free Web Hosting - Linux, PHP, MySQL, No Ads/Banners by FreeHostia.
Here are JoomlaHostingFree.com, we offer free Joomla hosting and expertise. We are Joomla experts and we know exactly how to provide excellent Joomla support as well as Joomla hosting absolutely free. Our free Joomla hosting offers the most compatible versions of PHP, Joomla, and MySQL – all optimized to give you the absolute best and most reliable Joomla hosting for free. The reason we're giving away Joomla hosting is because Andrew Hallinan is a Las Vegas Search Engine Optimization consultant and is hoping to gain a few new clients via offering free hosting. Keep him in mind for all of your SEO needs!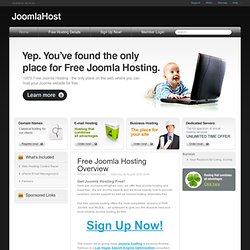 Joomla Hosting Free - 100% Free Joomla Hosting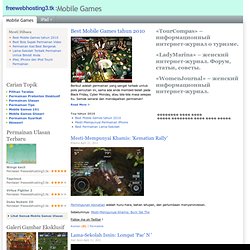 Perhimpunan Kematian adalah huru-hara, bahan letupan, dan perlumbaan menyeronokkan. Sebelumnya: Mesti-Mempunyai Khamis: Burn Tali The Follow me on Twitter ! Lompat Pac 'N adalah alternatif yang baik untuk Lompat Doodle klasik mudah alih.
freewebhosting3.tk
Welcome to FreeJoomlas, your FREE hosting provider for Joomla. We provide free hosting for your Joomla portals. It is absolutely FREE. Moreover, we provide FREE subdomains (YOURNAME.FreeJoomlas.com) and UNLIMITED data transfer. Joomla, the next generation of Mambo, is an automated portal system. It is easy to use and manage your website through a control panel.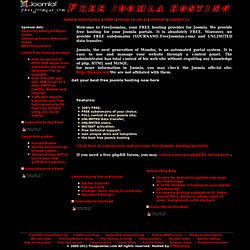 Free Joomla hosting, get your Joomla portal now; it is FREE.