Joomla Dienste
Home
Joomla Development is second most popular freely available open source content management system (CMS) used for developing dynamic websites and web application. Joomla Web Development is build on PHP & MySQL, and offer rich features like page caching, RSS feeds, news flash, blogs, polls, search, printable page version etc. Open Source Web Development offers quality Joomla development services at competitive rates. Websites & web applications developed using Joomla very user friendly and they can be easily maintained without much technical knowledge. At Open Source Web Development we understand our client required to develop Joomla application that best suits their business requirements. Our expert team of Joomla developers has wide experience of designing and developing simple to complex personal & complex websites using Joomla content management system.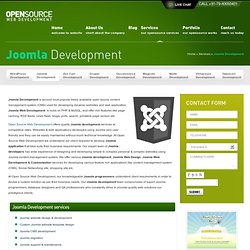 Joomla Development | Joomla Web Design | Joomla Web Development | Joomla Integration
Joomla Templates, Wordpress Themes - Professional Joomla Templates Club - Shape 5
Joomla! Factory
Joomla Entwicklung und professionelles Joomla Programmieren
Sie suchen einen Joomla-Spezialisten als zuverlässigen und kompetenten Partner, der Ihnen mit Erfahrung, Rat und Tat zur Seite steht? Dann ist diese Seite für Sie interessant. Sie erhalten maßgeschneiderte Lösungen, die sich auszahlen.