Fr€€ Joomla Templates
More Than 3100 Free Joomla CMS Templates. Custom Joomla templates - portfolio - Design-Joomla. Joomla Templates,Free Joomla Templates,Free Joomla Themes. Joomla Templates. Joomla Downloads. RocketTheme has an extensive collection of premium Joomla templates available for purchase and download.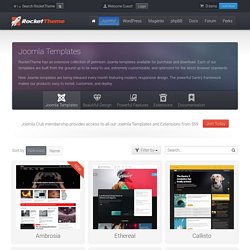 Each of our templates are built from the ground up to be easy to use, extremely customizable, and optimized for the latest browser standards. New Joomla templates are being released every month featuring modern, responsive design. Joomla Templates Gallery by SiteGround | NEW: Joomla 2.5 Templates. Professional FREE Joomla templates. With Joomla!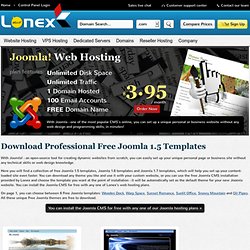 - an open-source tool for creating dynamic websites from scratch, you can easily set up your unique personal page or business site without any technical skills or web design knowledge. Here you will find a collection of free Joomla 1.5 templates, Joomla 1.6 templates and Joomla 1.7 templates, which will help you set up your content-loaded site even faster. You can download any theme you like and use it with your custom website, or you can use the free Joomla CMS installation provided by Lonex and choose the template you want at the point of installation - it will be automatically set as the default theme for your new Joomla website.
You can install the Joomla CMS for free with any one of Lonex's web hosting plans.