Fr€€ Joomla Templates
More Than 3100 Free Joomla CMS Templates
Custom Joomla templates - portfolio - Design-Joomla
Joomla Templates,Free Joomla Templates,Free Joomla Themes
Joomla Templates
Joomla Downloads
Blue Curves Blue Curves was originally designed for Joomla 1.5 but because it received a lot of good feedback and upgrade requests we have now migrated it to be used with Joomla 2.5 and 3.0! You can now upgrade your website to the latest version without having to redesign it!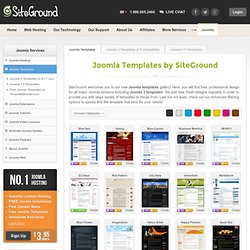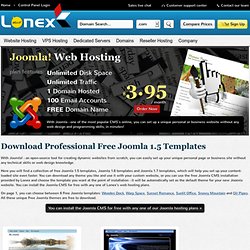 professional FREE Joomla templates
Drupal, fuzzylime (cms), Geeklog , Joomla 1.0.x , Joomla 1.5.x , Mambo , LMS , Nucleus, Open Realty, php-fusion, phpWebSite, WebSiteBaker, xoops With Joomla! – an open-source tool for creating dynamic websites from scratch, you can easily set up your unique personal page or business site without any technical skills or web design knowledge. Here you will find a collection of free Joomla 1.5 templates, Joomla 1.6 templates and Joomla 1.7 templates, which will help you set up your content-loaded site even faster. You can download any theme you like and use it with your custom website, or you can use the free Joomla CMS installation provided by Lonex and choose the template you want at the point of installation – it will be automatically set as the default theme for your new Joomla website.