Lavoro
Offerte di lavoro per Manager, a partire da € 50.000 annui e Head hunter iscritti a Experteer.it
EU careers : L'ufficio europeo di selezione del personale è il punto di partenza!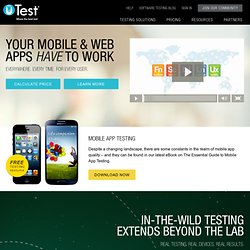 Heard the news? In early 2014, uTest will be changing its name to Applause. With an expanded app quality offering including test services, tools, SDKs & integrated analytics, we will do even more to help companies delight their web & mobile users. The uTest name will live on in our tester community, with an expanded offering for all facets of a tester's professional life.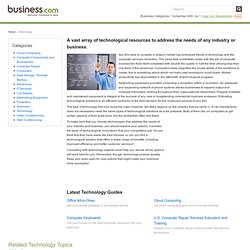 A vast array of technological resources to address the needs of any industry or business. Any firm able to compete in today's market has embraced trends in technology and the computer services revolution. The same task undertaken today with the aid of computer accessories finds itself completed with double the quality in half the time utilizing less than one-third of the personnel. Computers have magnified the innate ability of the workforce to create; this is something about which not many past revolutions could boast. Worker productivity has skyrocketed in the aftermath of technological progress.
Technology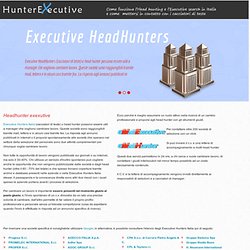 Executive Hunters Italia (cacciatori di teste) o head hunter possono essere utili a manager che vogliono cambiare lavoro. Queste società sono raggiungibili tramite mail, lettera e in alcuni casi tramite fax. La risposta agli annunci pubblicati in internet o il proporsi spontaneamente alle società che operano nel settore della selezione del personale sono due attività complementari per chiunque voglia cambiare lavoro. Non tutte le opportunità di lavoro vengono pubblicate sui giornali o su internet, ma solo il 30-40%. Chi utilizza un servizio d'inoltro spontaneo può cogliere anche le opportunità che non vengono pubblicizzate dalle società e dagli head hunter (oltre il 60 - 70% del totale) e che spesso trovano copertura tramite archivi e database presenti nelle aziende o nelle Executive Hunters Italia stesse. Il passaparola e la conoscenza diretta sono altri due mezzi con i quali spesso le aziende portano avanti i processi di selezione.
Head Hunters in Italia: Come funziona e come inviare il proprio CV agli headhunters
eGov - Archivio aziende - M-Government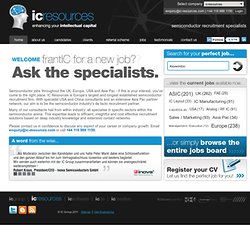 throughout the UK, Europe, USA and Asia Pac - if this is your interest, you've come to the right place. IC Resources is Europe's largest and longest established semiconductor recruitment firm. With specialist USA and China consultants and an extensive Asia Pac partner network, our aim is to be the semiconductor industry's de facto recruitment partner. Many of our consultants hail from within industry; all specialise in specific sectors within the semiconductor arena.
Sales/Account Manager (Semiconductor Manufacturing) job, Italy - competitive plus bonus - Permanent - IC Resources