Jobs
HOT Jobs : Fresh Jobs, Software Jobs, MBA Jobs, BPO Jobs,Technical Jobs,
Company Location Position Eligibility
IEEE Job Site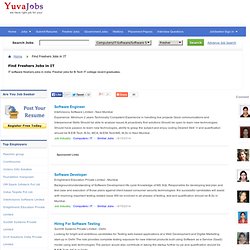 Fresher Jobs in India - YuvaJobs
MSNET DeveloperShould have experience in net development in web based applicationsShould have worked on Java script, Ajax and JqueryFramework: 35/40SQ Should have experience in net development in web based applicationsShould have worked on Java script, Ajax and JqueryFramework: 35/40SQL Server: 2008/ Fresher - About Achievers SpotAchievers Spot is a Well-Established Recruiting Firm in Chennai for Dedicated, Hard Working and Focused Individuals We a Job Description:Excellent designing skills in Photoshop, Coreldraw and illustrator, FlashHTML, HTML 5, CSS 30, JQuery, javascript a must, WordPress, J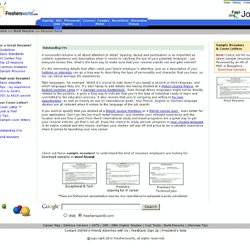 Building Resume, cover letter, Guidlines
A successful resume is all about attention to detail. Spacing, layout and punctuation is as important as content, experience and description when it comes to catching the eye of your potential employer – yet everyone knows this. What's the best way to make sure that your resume stands out and gets noticed?
CEERI, Pilani - The Research Institute
FreshersWorld
www.Freshersworld.com - FreshersWorld Website - Jobs, Placement Papers |Submit Resume
Freshers Jobs, Walk-in For Freshers, Jobs in India, Bangalore, Chennai, Delhi
Welcome chetanafresherjobs.com - BlueHost.com
Search Jobs and Walk-in Interviews For Freshers in Bangalore, Delhi, Mumbai, Chennai, Pune,
Freshers World
Jobs for freshers fresher jobs Mumbai walkins in chennai freshers jobs India Bangalore
GATE Exam, Gate Coaching, Gate...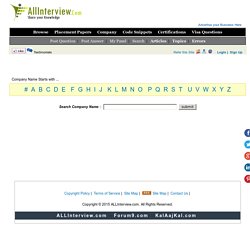 Browse | Placement Papers | Company | Code Snippets | Certifications | Visa Questions Post Question | Post Answer | My Panel | Search | Articles | Topics | ERRORS new Refer this Site | Error Company Name Starts with .. Company >> >>
www.fresherworld.com Interview Questions and Answers, Technical Questions, Placement Papers,