Labour disputes
Get flash to fully experience Pearltrees
The main objective of the Latin America and Caribbean - LAC Social Protection team is to help countries in the region increase the equity and coverage of Social Protection (SP) systems and to enable the poor to have better jobs. Focusing on areas such as the expansion and improvement of CCT programs, including ways to enhance employability of the poor; the linkages between informality and social protection systems; identifying more effective policies for youth at risk; and addressing malnutrition, the team has sought to improve outcomes in our lending and AAA portfolio, and to create capacity in countries to monitor and evaluate those outcomes. <p style="text-align:right;color:#A8A8A8"></p>
DISCLAIMER: The translations of the UNDT judgments should be checked against the originals, which are the authoritative versions. All columns are sortable. To sort by a column, click on its header. All information provided herein is for information purposes only. The Registry of the Dispute Tribunal makes changes or updates to this site without notice. The Registry of the Dispute Tribunal disclaims any liability or responsibility arising from the use of information and documents contained on this site.
Skip directly to local search Skip directly to A to Z list Skip directly to site content Skip directly to page options CDC Home CDC 24/7: Saving Lives. Protecting People.™
Judgements 00001 to 00100 | 00101 to 00200 | 00201 to 00300 00301 to 00400 | 00401 to 00500 | 00501 to 00600 00601 to 00700 | 00701 to 00800 | 00801 to 00900
The Administrative Tribunal of the International Labour Organisation is the heir of the Administrative Tribunal of the League of Nations, which was competent from 1927 to 1946 to hear complaints against the Secretariat of the League of Nations and against the International Labour Office. Since 1947 the Tribunal has heard complaints from serving and former officials of the International Labour Office and of the other international organisations that have recognized its jurisdiction. It is currently open to approximately 46,000 international civil servants who are serving or former officials of some sixty organisations.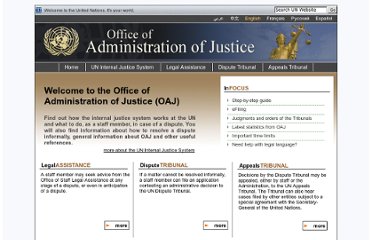 Legal Assistance A staff member may seek advice from the Office of Staff Legal Assistance at any stage of a dispute, or even in anticipation of a dispute. more about Staff Legal Assistance