JHU Film and Media
Periodicals and Magazines. Non-Profit Organizations: Information and Research. Johns Hopkins University Websites. Jobs and Internships. International Film & Media Resources. Filmmaker Resources.
Films on the Web. HopkinsCinemAddicts. JHU Film and Media Homepage. Calling on Visionary Filmmakers: Hopkins Film Fest 2014 by Abby Harri, Class of 2014 Planning any four-day event is a challenge, but when you're doing it for nine months the event can truly become your "baby."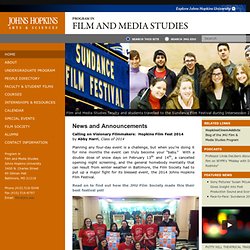 With a double dose of snow days on February 13th and 14th, a cancelled opening night screening, and the general homebody mentality that can result from winter weather in Baltimore, the Film Society had to put up a major fight for its blessed event, the 2014 Johns Hopkins Film Festival. Home - jhu film production.
Grants and Funding Opportunities. Film Studies.
---