Pendants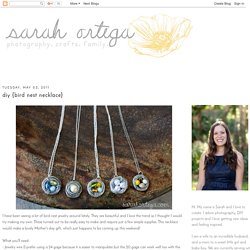 I have been seeing a lot of bird nest jewelry around lately. They are beautiful and I love the trend so I thought I would try making my own. These turned out to be really easy to make and require just a few simple supplies. This necklace would make a lovely Mother's day gift, which just happens to be coming up this weekend! What you'll need: - Jewelry wire (I prefer using a 24 gage because it is easier to manipulate but the 20 gage can work well too with the help of some round nose pliers) - pearls or glass beads - necklace chain - jump ring and a clasp Select the beads you want, string them onto your wire and arrange them as you'd like.
Would you believe what these are made of??? Well, of course you would, 'cause your smart!!! ;)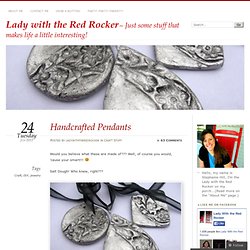 Handcrafted Pendants « Lady with the Red Rocker
DIY Proenza Schouler Scroll Necklace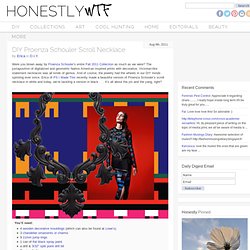 Were you blown away by Proenza Schouler's entire Fall 2011 Collection as much as we were? The juxtaposition of digitalized and geometric Native American inspired prints with decorative, Victorian-like statement necklaces was all kinds of genius. And of course, the jewelry had the wheels in our DIY minds spinning ever since.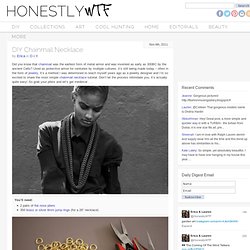 You'll need: Start by separating the jump rings into two halves: 175 open and 175 closed. Thread three closed jump rings onto an open jump ring. Close the ring. Spread the three rings apart, with the rings looking exactly as shown below. The bottom ring will be the end of the necklace and the top two rings, which are spread open over the middle ring, will be where the chain mail begins.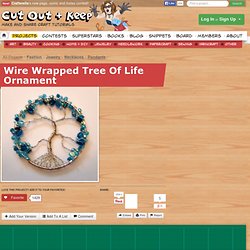 OPTIONS: 1. Pendant Size Tree: If you need to make a smaller Tree of Life for a pendant or even a tiny one for earrings, you'll simply want to use a smaller ring and also decrease the number of wires used. Just remember, you'll always want to have a multiple of three (3, 6, 9...) because you'll be braiding the roots of the tree. 2. Adding charms: If you'd like to add charms to your tree, just add them while your twisting the branches or before you add beads to the branch, depending on where you want the charm to hang. 3.