Mass effect
Mass Effect 3 Video Game, VGA 10: Exclusive Debut Trailer HD
Mass Effect 3 - E3 2011: Emergency Broadcast Teaser
Mass Effect, Test sur X360
I could've used a little more cowbell 2183. Désormais capable de dépasser la vitesse de la lumière, l'Humanité est installée un peu partout dans l'Univers via de nombreuses colonies.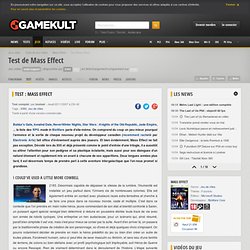 Mass Effect - E3 2007 Trailer
Achetez le jeu PC Mass Effect - Téléchargez le jeu PC Mass Effec
Mass Effect - E3 2006 Trailer
Mass Effect Theme - Jack Wall, Sam Hulick
Mass Effect Soundtrack - Love Theme
Mass Effect - Character Spotlight Trailer
Mass Effect - Character Spotlight Trailer 2
Mass Effect - Character Spotlight Trailer 3
Dans le panier de la Rédac' : "Mass Effect 2"
Plutôt que de vous proposer par intervalles un panier de conseils d'achats de la Rédac' sous la forme parfois bourrative de dossiers, l'idée de vous livrer par à coups, comme ça, pour le plaisir, des coups de coeur, a fait son chemin.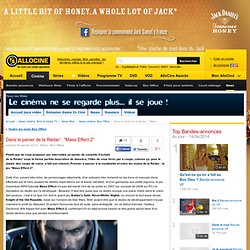 Véritable space opera capable de renvoyer dans les cordes la plupart des productions de SF de ces dernières années, Mass Effect a laissé un souvenir indélébile à quantité de joueurs. Le second opus de cette trilogie compte bien secouer les plumes des fans, quitte à les déstabiliser. Normalement, lorsqu'on cherche à démarrer le test d'un jeu comme Mass Effect, il est d'usage d'en planter le décor, de faire le pitch comme on dit.
Test de Mass Effect 2 sur Xbox 360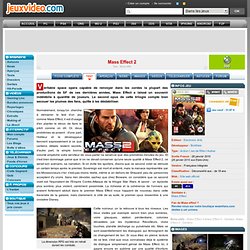 Mass Effect 2 Full Cinematic Trailer (FR)
Mass Effect Galaxy - iPhone - iPhone/iPod
Mass Effect Galaxy iPhone App Review - AppVee.com
Rebecca has a space adventure. Rebecca Mayes has curly hair and drinks Rooibos tea. Her favourite instrument is the zither.
Video Galleries : Rebecca Mayes Muses : Mass Effe
Quel est le point commun entre Tom, mon fils de 4 ans, et Ben Fellowes ?
Insolite: le mardi, je construis - Blog ludo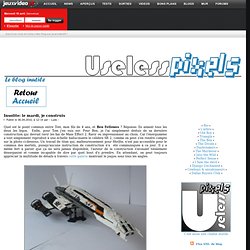 - Mass Effect Movie announced! (Mass Effect - Mass Effect News a