Mass effect
Mass Effect 3 Video Game, VGA 10: Exclusive Debut Trailer HD. Mass Effect 3 - E3 2011: Emergency Broadcast Teaser. Mass Effect, Test sur X360. I could've used a little more cowbell 2183.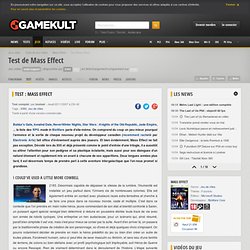 Désormais capable de dépasser la vitesse de la lumière, l'Humanité est installée un peu partout dans l'Univers via de nombreuses colonies. Mass Effect - E3 2007 Trailer. Achetez le jeu PC Mass Effect - Téléchargez le jeu PC Mass Effec. Mass Effect - E3 2006 Trailer. Mass Effect Theme - Jack Wall, Sam Hulick. Mass Effect Soundtrack - Love Theme. Mass Effect - Character Spotlight Trailer. Mass Effect - Character Spotlight Trailer 2. Mass Effect - Character Spotlight Trailer 3. Mass Effect 2. Dans le panier de la Rédac' : "Mass Effect 2" Plutôt que de vous proposer par intervalles un panier de conseils d'achats de la Rédac' sous la forme parfois bourrative de dossiers, l'idée de vous livrer par à coups, comme ça, pour le plaisir, des coups de coeur, a fait son chemin.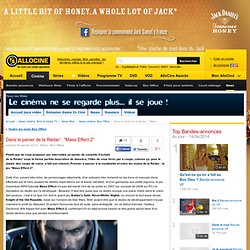 Premier à passer à la moulinette et entre les mains de la Rédac : le jeu "Mass Effect 2". Doté d'un univers très riche, de personnages attachants, d'un scénario très immersif où les bons et mauvais choix effectués par le héro avaient de réelles implications sur la trame narrative, et d'un gameplay aux petits oignons, le jeu d'aventure-RPG futuriste Mass Effect n'a pas fait mentir lors de sa sortie en 2007 sur console (et 2008 sur PC) la réputation du studio qui l'a développé : Bioware. Il faut dire aussi que ce studio occupe une place chère dans le coeur des joueurs : c'est à lui que l'on doit le grand jeu Baldur's Gate, NeverWinter Nights, ou encore le tout aussi réussi Knight of the Old Republic, basé sur l'univers de Star Wars.
Test de Mass Effect 2 sur Xbox 360. Véritable space opera capable de renvoyer dans les cordes la plupart des productions de SF de ces dernières années, Mass Effect a laissé un souvenir indélébile à quantité de joueurs.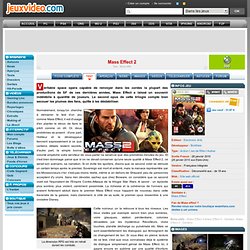 Le second opus de cette trilogie compte bien secouer les plumes des fans, quitte à les déstabiliser. Normalement, lorsqu'on cherche à démarrer le test d'un jeu comme Mass Effect, il est d'usage d'en planter le décor, de faire le pitch comme on dit. Mass Effect 2 Full Cinematic Trailer (FR) Mass Effect Galaxy - iPhone - iPhone/iPod. Mass Effect Galaxy iPhone App Review - AppVee.com. Mass Effect France - Accueil. Video Galleries : Rebecca Mayes Muses : Mass Effe. Rebecca has a space adventure.
Rebecca Mayes has curly hair and drinks Rooibos tea. Her favourite instrument is the zither. Insolite: le mardi, je construis - Blog ludo. Quel est le point commun entre Tom, mon fils de 4 ans, et Ben Fellowes ?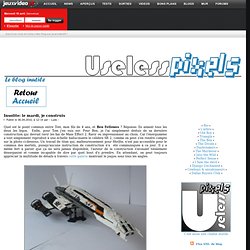 Réponse: Ils aiment tous les deux les légos. Enfin, pour Tom j'en suis sur. Pour Ben, je l'ai simplement déduis de sa dernière construction qui devrait ravir les fan de Mass Effect 2. Ravir ou impressionner au choix. - Mass Effect Movie announced! (Mass Effect - Mass Effect News a. Mass effect 2.
---