Jeep Retailers
Randy's Ring & Pinion. The Differential Experts. Auto Parts & Services.
Many of the products offered at Swag Off Road are an industry first. Every product is designed, developed, prototyped and tested here in Oregon. We have quickly established an honorable reputation of providing our customers with an excellent product at an attractive price. Our products are designed for the shop/garage fabricator yet able to withstand the demands of industrial use. We specialize in off road products as well as unique & innovative fabrication tools.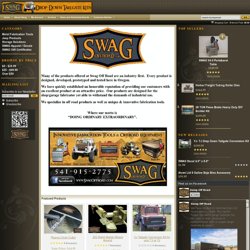 SWAG OFF ROAD.COM
Morris 4x4 Center carries one of the largest selections of Jeep Parts and Jeep Accessories. We pride ourselves with a high level of customer service, and we strive every day to deliver the best Jeep Parts Brands, Priced Right. After 19 years in the Jeep Parts business we have the experience and commitment to back it up.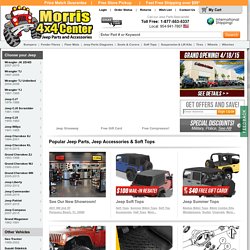 Morris 4x4Center
Metalcloak
Xtreme Terrain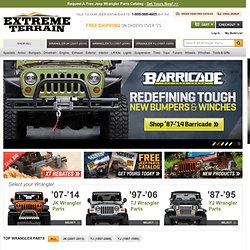 ExtremeTerrain.com is dedicated to offering you high quality Jeep Wrangler aftermarket parts and accessories at great prices. We've got you covered whether you're crawling canyons, climbing mountains, exploring the off road, or just cruising the open highway with our full inventory of Jeep parts and accessories for every Jeep Wrangler model. And if you're not quite sure yet just how you want to modify your 4x4 vehicle, give us a call and our experts will help sort, filter, and recommend products to fit your project and budget with the most bang for your buck, after all, we are the Jeep Wrangler Experts!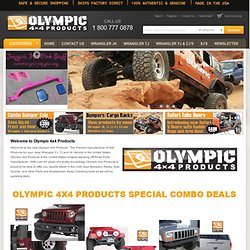 Olympic 4x4 Products is the longest standing manufacturer of accessories, bumpers and utility racks for Jeep vehicles. All of our Jeep Parts and Jeep Accessory products are proudly made in the United States of America, at our factory in City of Commerce, California. Olympic 4x4 Products Jeep Accessories are available in high gloss black, textured black powder coated finishes and now for select Jeep Bumpers and Jeep Accessories Raw Steel and Pink Powder Coat for the ladies. We strive to make quality Jeep Parts and Accessory products at the lowest possible price to give you the most value for your Jeep customizing dollars.
Olympic4x4
The following parts require additional handling charges due to their large size or weight: wheels, tires, full suspension lift kits, oversized bumpers, tire carriers, body tubs, hard tops and cargo racks. The following parts do not qualify for free shipping: Oversized items and items delivered by truck freight, as well as prior purchases and returns. ©1995-2014, Quadratec, Inc.
Quadratec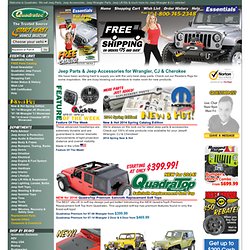 Discount Jeep Parts
Mountain Off Road- M.O.R.E. Manufacturer Direct Pricing on Jeep parts for Jeep YJ, Jeep CJ,Jeep TJ,Jeep JK and Jeep XJ models, quality jeep off road bumpers