JCPenny
Top retail trade group upgrades holiday forecast
NEW YORK (AP) -- With the final Christmas countdown begun, the nation's largest retail trade group has upgraded its holiday sales forecast reflecting growing optimism that much more spending is to come. The National Retail Federation said Thursday it now expects holiday sales for the November and December period to rise 3.8 percent to a record $469.1 billion.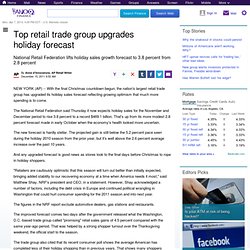 Social Trends
One Million Moms.com - Issue details
Library Access to Restricted Resources
JCPenney Internet sales up in first quarter
May 16, 2011 JCPenney Co . reported May 16 that its Internet sales increased 6.6% to $376 million in the first quarter of 2011, compared with Q1 2010.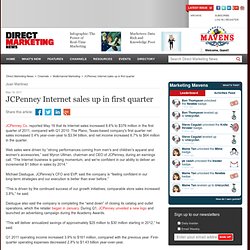 By Chris Moore - January 26, 2012 | Tickers: JCP , KSS , M , MSO | 4
Can JC Penney Capture Customers With its New Approach? - JCP, KSS, M, MSO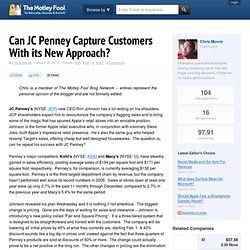 New Mobile Initiatives Bring Style, Quality and Compelling Prices Directly to Customers' Fingertips Just in time for the important holiday shopping season, JCPenney has launched new innovative mobile initiatives, including a mobile commerce site, location based check-in offers, enhancements to its mobile apps, and an exciting mobile experience via Apple®'s iAd platform.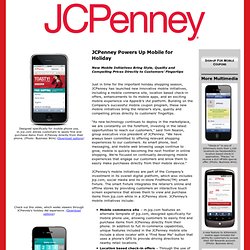 JCPenney Powers Up Mobile for Holiday
News - JC Penney reveals customers' show of support for Ellen DeGeneres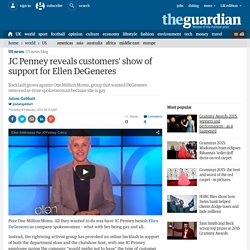 Poor One Million Moms. All they wanted to do was have JC Penney banish Ellen DeGeneres as company spokeswoman – what with her being gay and all.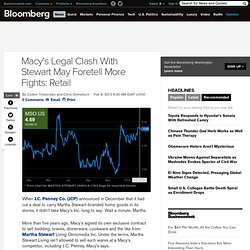 When J.C. Penney Co.
News - Macy's Fight With Martha Stewart May Foretell More Legal Clashes: Retail
News - ACKMAN: In The Future, Going Into A JCPenney Store Will Be Like Going Into An Apple Store (JCP)
Macy's Inc. News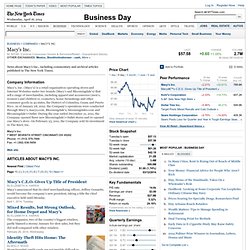 Macy's, Inc.
12 retail real estate trends to watch in 2012 | Kimco Realty Blog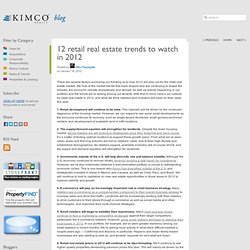 There are several factors anchoring our thinking as to how 2012 will play out for the retail real estate market. We look at the market trends that have shaped and are continuing to shape the industry, the economic climate domestically and abroad, as well as activity happening in our portfolio and the trends we're seeing among our tenants.
JC Penney – Annual Data « RetailSails
Five Black Friday Trends That Will Impact Retailers - Executive Style
B lack Friday, so named because it was the day retailers hoped to get "in the black" for the fiscal year, is now just as linked to the color of the sky when it all begins.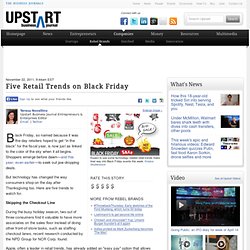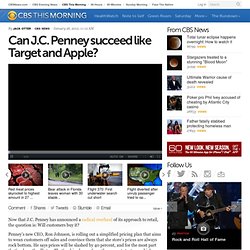 Now that J.C. Penney has announced a radical overhaul of its approach to retail, the question is: Will customers buy it?
Can J.C. Penney succeed like Target and Apple?
jcpenney is trying to rebuild its customer base with help from a new spokeswoman, Ellen DeGeneres.
jcpenney CEO on Ellen DeGeneres controversy
JC Penney CEO brings lessons from Apple
JCPenney Circles the Wagons Before Even Hearing Investor's Ideas
Managers at JCPenney (JCP) have responded with speed to the news that activist investor William Ackman of Pershing Square Capital Management had stealthily bought up more than 16 percent of the department-store chain's shares.
J.C. Penney investors cheer for Apple retail head as new CEO
By Matt Krantz and Scott Martin, USA TODAY Updated 6/14/2011 10:06 PM | Shares of J.C.
Investor Relations - Stock Quote & Stock Chart
Investor Relations - Company News
JC Penney News & Latest JC Penney Headlines - DailyFinance.com
J. C. Penney Company News
J. C. Penney Company, Inc. (jcpenney), is a holding company. The Company is a retailer, operating 1,102 department stores in 49 states and Puerto Rico as of January 28, 2012. Its business consists of selling merchandise and services to consumers through its department stores and through its Internet Website at jcp.com.
J.C. Penney slashing prices on all merchandise in new strategy
The New Strategy At JCPenney Is A Bad Read Of Its Customers
J.C. Penney's new strategy includes major markdowns
What to Expect: J.C. Penney's New Pricing Strategy
Investor Relations - Annual Reports & Form 10-K
Why J.C. Penney Will Be The Most Interesting Retailer Of 2012