JCPenny
Top retail trade group upgrades holiday forecast. NEW YORK (AP) -- With the final Christmas countdown begun, the nation's largest retail trade group has upgraded its holiday sales forecast reflecting growing optimism that much more spending is to come.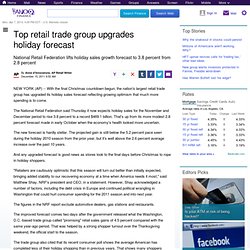 The National Retail Federation said Thursday it now expects holiday sales for the November and December period to rise 3.8 percent to a record $469.1 billion. That's up from its more modest 2.8 percent forecast made in early October when the economy's health looked more uncertain. The new forecast is hardly stellar. The projected gain is still below the 5.2 percent pace seen during the holiday 2010 season from the prior year, but it's well above the 2.6 percent average increase over the past 10 years. And any upgraded forecast is good news as stores look to the final days before Christmas to rope in holiday shoppers.
Social Trends. Library Access to Restricted Resources. JCPenney Internet sales up in first quarter. May 16, 2011 JCPenney Co. reported May 16 that its Internet sales increased 6.6% to $376 million in the first quarter of 2011, compared with Q1 2010.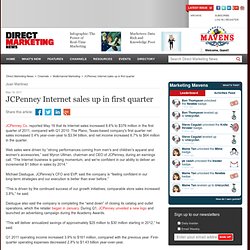 The Plano, Texas-based company's first quarter net sales increased 0.4% year-over-year to $3.94 billion, and net income increased 6.7% to $64 million in the quarter. Web sales were driven by "strong performances coming from men's and children's apparel and women's accessories," said Myron Ullman, chairman and CEO of JCPenney, during an earnings call. "The Internet business is gaining momentum, and we're confident in our ability to deliver an incremental $1 billion in sales by 2014." Michael Dastugue, JCPenney's CFO and EVP, said the company is "feeling confident in our long-term strategies and our execution is better than ever before." JCPenney.com has it 'all inside' with $1B revenue stream | DSN Retailing Today. Can JC Penney Capture Customers With its New Approach? - JCP, KSS, M, MSO.
By Chris Moore - January 26, 2012 | Tickers: JCP, KSS, M, MSO | 4 Chris is a member of The Motley Fool Blog Network -- entries represent the personal opinion of the blogger and are not formally edited.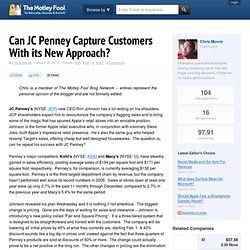 JC Penney's (NYSE: JCP) new CEO Ron Johnson has a lot resting on his shoulders. JCP shareholders expect him to revolutionize the company's flagging sales and to bring some of the magic that has spurred Apple's retail stores into an enviable position. JCPenney Powers Up Mobile for Holiday. New Mobile Initiatives Bring Style, Quality and Compelling Prices Directly to Customers' Fingertips Just in time for the important holiday shopping season, JCPenney has launched new innovative mobile initiatives, including a mobile commerce site, location based check-in offers, enhancements to its mobile apps, and an exciting mobile experience via Apple®'s iAd platform.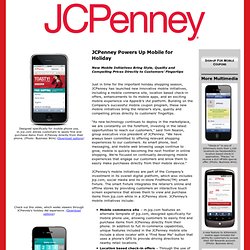 Building on the Company's successful mobile coupon program, these new mobile initiatives bring the retailer's style, quality and compelling prices directly to customers' fingertips. "As new technology continues to deploy in the marketplace, we are constantly on the forefront, investing in the latest opportunities to reach our customers," said Tom Nealon, group executive vice president of JCPenney.
"We have always been committed to offering relevant shopping experiences to our customers. News - JC Penney reveals customers' show of support for Ellen DeGeneres. Poor One Million Moms.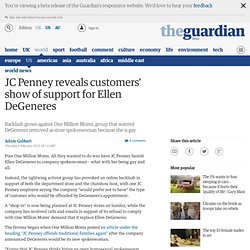 All they wanted to do was have JC Penney banish Ellen DeGeneres as company spokeswoman – what with her being gay and all. Instead, the rightwing activist group has provoked an online backlash in support of both the department store and the chatshow host, with one JC Penney employee saying the company "would prefer not to have" the type of customer who would be offended by DeGeneres's appointment. A "shop-in" is now being planned at JC Penney stores on Sunday, while the company has received calls and emails in support of its refusal to comply with One Million Moms' demand that it replace Ellen DeGeneres. News - Macy's Fight With Martha Stewart May Foretell More Legal Clashes: Retail. When J.C.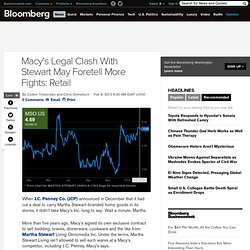 Penney Co. (JCP) announced in December that it had cut a deal to carry Martha Stewart-branded home goods in its stores, it didn't take Macy's Inc. long to say: Wait a minute, Martha. More than five years ago, Macy's signed its own exclusive contract to sell bedding, towels, dinnerware, cookware and the like from Martha Stewart Living Omnimedia Inc. Under the terms, Martha Stewart Living isn't allowed to sell such wares at a Macy's competitor, including J.C. Penney, Macy's says. News - ACKMAN: In The Future, Going Into A JCPenney Store Will Be Like Going Into An Apple Store (JCP) Macy's Inc. News. Macy's C.E.O.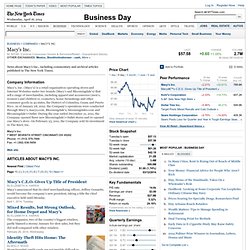 Gives Up Title of President By ELIZABETH A. HARRIS Macy's announced that its chief merchandising officer, Jeffrey Gennette, would become the company's new president, taking a title the chief executive held until Monday.
12 retail real estate trends to watch in 2012 | Kimco Realty Blog. There are several factors anchoring our thinking as to how 2012 will play out for the retail real estate market.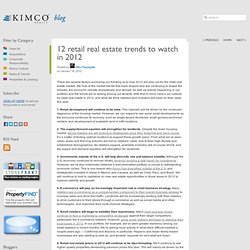 We look at the market trends that have shaped and are continuing to shape the industry, the economic climate domestically and abroad, as well as activity happening in our portfolio and the trends we're seeing among our tenants. With that in mind, here's our outlook for retail real estate in 2012, and what we think retailers and investors will have on their radar this year: 1. Retail development will continue to be slow. This naturally will be driven by the continued stagnancy of the housing market. Five Black Friday Trends That Will Impact Retailers - Executive Style.
Black Friday, so named because it was the day retailers hoped to get "in the black" for the fiscal year, is now just as linked to the color of the sky when it all begins.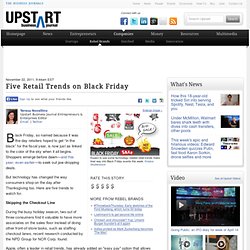 Shoppers emerge before dawn—and this year, even earlier—to seek out jaw-dropping deals. But technology has changed the way consumers shop on the day after Thanksgiving too. Here are five trends to watch for. Can J.C. Penney succeed like Target and Apple? Now that J.C.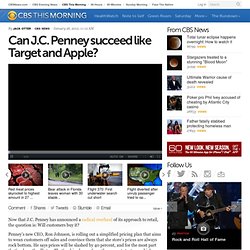 Penney has announced a radical overhaul of its approach to retail, the question is: Will customers buy it? Penney's new CEO, Ron Johnson, is rolling out a simplified pricing plan that aims to wean customers off sales and convince them that she store's prices are always rock bottom. He says prices will be slashed by 40 percent, and for the most part that's where they'll stay. That's a big change from the current strategy, which involves literally hundreds of sales every year. Johnson has a great track record. Jcpenney CEO on Ellen DeGeneres controversy. Jcpenney is trying to rebuild its customer base with help from a new spokeswoman, Ellen DeGeneres. But a group called One Million Moms is accusing the company of "jumping on the pro-gay bandwagon. " DeGeneres responded to the group on her TV show Wednesday, saying, "I'm happy about (being the spokesperson), jcpenney is happy about it.
But there's this group called One Million Moms that is not happy about it. And normally I try not to pay attention to my haters, but this time I'd like to talk about it because my haters are my motivators. This organization doesn't think I should be the spokesperson because I am gay. JC Penney CEO brings lessons from Apple. JCPenney Circles the Wagons Before Even Hearing Investor's Ideas. Last Updated Oct 20, 2010 1:13 PM EDT Managers at JCPenney (JCP) have responded with speed to the news that activist investor William Ackman of Pershing Square Capital Management had stealthily bought up more than 16 percent of the department-store chain's shares. Their defensive moves seem a bit hasty, given that they have yet to hear any of Ackman's ideas for improving results. There's always a chance they could be useful. Within days of Pershing's ownership disclosure -- and the news that it might team up with another big shareholder, retail real-estate player Vornado Realty (VNO) -- the company hired Goldman Sachs as an advisor and adopted a "poison pill" provision which will make it difficult for Pershing to acquire more shares.
J.C. Penney investors cheer for Apple retail head as new CEO. By Matt Krantz and Scott Martin, USA TODAY Updated 6/14/2011 10:06 PM | Shares of J.C. Investor Relations - Stock Quote & Stock Chart. Investor Relations - Company News. JC Penney News & Latest JC Penney Headlines - DailyFinance.com. J. C. Penney Company News. J. C. Penney Company, Inc. is a holding company whose principal operating subsidiary is J. C. Penney Corporation, Inc. (JCP). J.C. Penney slashing prices on all merchandise in new strategy. The New Strategy At JCPenney Is A Bad Read Of Its Customers. J.C. Penney's new strategy includes major markdowns. What to Expect: J.C. Penney's New Pricing Strategy.
Investor Relations - Annual Reports & Form 10-K. Why J.C. Penney Will Be The Most Interesting Retailer Of 2012.
---