Jazz
Jazz - A Passion for Jazz! Music History and Education
Doug McKenzie Jazz Piano Site
In this month's article, I am going to talk about different techniques you can use to quickly create an arrangement from a lead sheet. Lead sheets, sometimes referred to "Lead Lines" are when you are presented with only the chords and melody of a song. If you know how to create an arrangement using lead sheets, you have thousands of songs at your fingertips.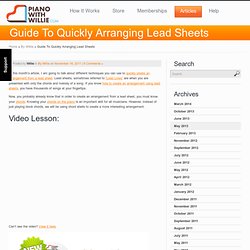 Guide To Quickly Arranging Lead Sheets | Piano With Willie | Learn The Piano | Piano Lessons
Roots of Blues -- Leadbelly "See See Rider"
Cotton Fields - Leadbelly
leadbelly - house of the rising sun
Lead Belly - Where Did You Sleep Last Night? (1944) (TRUE STEREO)