Slideshow
HOW TO INSTALL & SETUP VIEWS SLIDESHOW MODULE ON DRUPAL7? | ウェブサイトデザイン | Bright Web Design Studio. Today I gonna show you how to install and setup the amazing views slideshow module on Drupal7.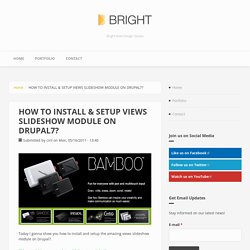 This tutorial is now uptodate with latest modules!!! (1) Required Modules (Version: Drupal7.0) (2) Install the Modules. 20 Best jQuery Slideshow / Photo Gallery Plugins. Photo Gallery, picture gallery, or slideshow are the best way to showcase your images/photos to your readers. jQuery Slideshow plugins are very useful to show the photo gallery in your blog or website in a eye catching way.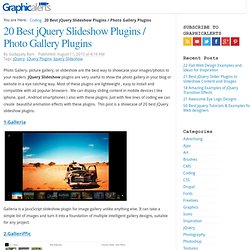 Most of these plugins are lightweight , easy to install and compatible with all popular browsers . We can display sliding content in mobile devices ( like iphone, ipad , Andriod smartphones ) also with these plugins. Just with few lines of coding we can create beautiful animation effects with these plugins. This post is a showcase of 20 best jQuery slideshow plugins. 1.Galleria. AJAX Feed API - AJAX SlideShow. AJAX Slide Show The Slide Show is a simple to use application of the Google AJAX Feed API that is designed to let you add photo slide shows to your pages, sites, and blogs.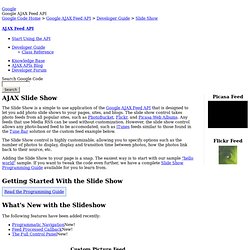 The slide show control takes photo feeds from all popular sites, such as PhotoBucket, Flickr, and Picasa Web Albums. Any feeds that use Media RSS can be used without customization. However, the slide show control allows any photo-based feed to be accomodated, such as iTunes feeds similar to those found in the Tune Bar solution or the custom feed example below. PHP/SWF Slideshow > Tutorial. Basics 1.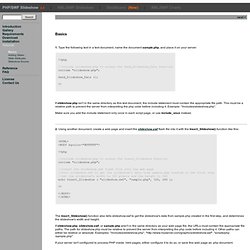 Type the following text in a text document, name the document sample.php, and place it on your server: WebSlides - Turning bookmarks and feeds into interactive slideshows…
---