Ajax
Get flash to fully experience Pearltrees
There are at least five ways to make AJAX calls with the jQuery library. For beginners, however, the differences between each can be a bit confusing. In this tutorial, we'll line them up and make a comparison. Additionally. we'll review how to inspect these AJAX calls with Firebug as well.
It's an interesting time to be working on the frontend now. We have new technologies such as HTML5, CSS3, Canvas and WebGL; all of which greatly increase the possibilities for web application development. The world is our oyster! However, there's also another trend I've noticed.
Hey guys and gurls! Today we are going to take a look at different asynchronous technologies. There are many variations of them over the net.
Making users click through multiple pages just to edit a field is so 1999. In this tutorial, you'll learn how to create an in-place editing system as found on popular sites, such as Flickr. A word from the Author With all the buzz around Web 2.0, ease of use is now much more important than ever.
This project is an interesting example of an application built using the Google Web Toolkit (GWT) . Kelly and Miguel spent a Sunday afternoon prior to their tutorial at EclipseCon 2007 developing an instant messenger web application. The source for Chattr is available in the Downloads section , and you can either get the 'complete' app version, or a version that is 'working.'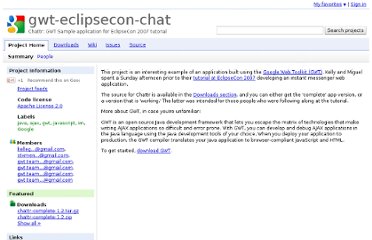 A List Apart is pleased to present the following excerpt from Chapter 27 of Web Design in a Nutshell (O'Reilly Media, Inc., third edition, February 21, 2006). —Ed. The start of 2005 saw the rise of a relatively new technology, dubbed "Ajax" by Jesse James Garrett of Adaptive Path.