Java/JEE
JMS 2.0 means less code. Here are ten simple examples that demonstrate how JMS 2.0 requires less code than JMS 1.1.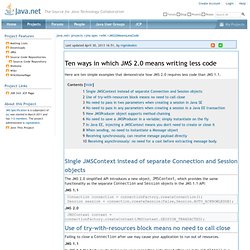 Single JMSContext instead of separate Connection and Session objects The JMS 2.0 simplified API introduces a new object, JMSContext, which provides the same functionality as the separate Connection and Session objects in the JMS 1.1 API: Connection connection = connectionFactory.createConnection(); Session session = connection.createSession(false,Session.AUTO_ACKNOWLEDGE); JMSContext context = connectionFactory.createContext(JMSContext.SESSION_TRANSACTED); Use of try-with-resources block means no need to call close.
Java EE 6 Technologies. Integrating Message-Driven Beans into Enterprise Applications with WebSphere Studio: Part 2 -- End-to-End Case Study. Introduction Message Driven Beans (MDBs) are a new kind of J2EE 1.3 enterprise bean that uses the JavaTM Message Service (JMS) to communicate with enterprise messaging systems such as IBM ® WebSphere® MQ.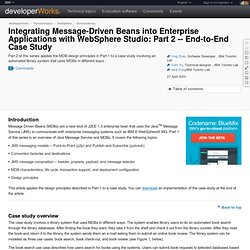 Part 1 of this series is an overview of Java Message Service and MDBs. It covers the following topics: An Eclipse / GlassFish / Java EE 6 Tutorial » Programming. For whatever reason my programming blog got lost in binary space.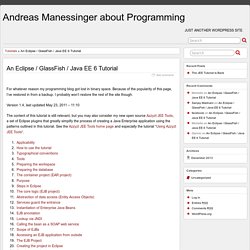 Because of the popularity of this page, I've restored in from a backup. I probably won't restore the rest of the site though. Version 1.4, last updated May 23, 2011 – 11:10 The content of this tutorial is still relevant, but you may also consider my new open source Azzyzt JEE Tools, a set of Eclipse plugins that greatly simplify the process of creating a Java Enterprise application using the patterns outlined in this tutorial. See the Azzyzt JEE Tools home page and especially the tutorial "Using Azzyzt JEE Tools".
JSF2. JAX-WS. JPA2/Hibernate. I/O. Tester une application JavaEE avec Arquillian. Comment tester du code destiné à être exécuté dans un conteneur (Servlet, JPA, Spring, EJB, etc.), c'est à dire tirant partie des services offert par ce conteneur (transactions, base de données,etc.) ?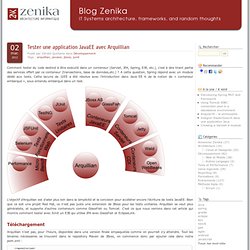 A cette question, Spring répond avec un module dédié aux tests. Cette lacune de J2EE a été résolue avec l'introduction dans Java EE 6 de la notion de « conteneur embarqué », sous entendu embarqué dans un test. Blog Xebia France | J2EE, Agilité et SOA. Transactions – Les concepts et modèles. En même temps indispensables et source de problèmes, les transactions restent trop souvent un des concepts les moins bien maîtrisés par les développeurs JEE.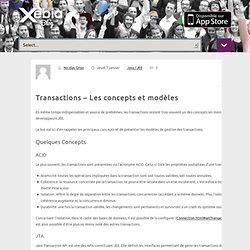 Le but est ici d'en rappeler les principaux concepts et de présenter les modèles de gestion des transactions. Quelques Concepts Le plus souvent, les transactions sont présentées via l'acronyme ACID. Celui-ci liste les propriétés souhaitées d'une transaction: Atomicité: toutes les opérations impliquées dans la transaction sont soit toutes validées soit toutes annulées.Cohérence: la ressource concernée par la transaction ne pourra être laissée dans un état incohérent, c'est-à-dire à moitié consommée ou à moitié mise à jour.Isolation: réfère le degré de séparation entre les transactions concurrentes (accédant à la même donnée).
---